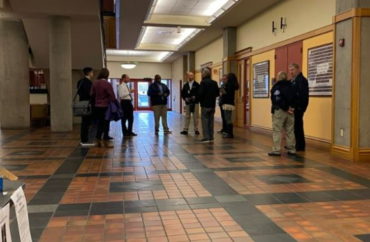 Conservative legal scholar Ilya Shapiro gave a speech at the University of Denver's Sturm College of Law on Tuesday, but the effort to ensure it went off without a hitch was Herculean.
Protesters had demanded it be canceled, calling Shapiro a racist. Demonstrations were also planned.
Shapiro, in a statement Tuesday, said it only took "five security guards, strict control of the room at certain times, protesters shunted to designated free speech zones, and the DEI office counterprogrammed with a half-dozen professors talking about critical race theory and structural racism."
All that, plus the law school dean had threatened students who disrupted the speech with discipline, including potentially flagging their professional licensing, he said.
"That's what it took for little 'ol me to give a speech titled 'Silencing minorities: Free Speech on Campus.' That's what higher ed campus culture looks like in 2023," Shapiro said.
.@UofDenver administrators, campo, and DPD occupying our building to make it safe for racists. Says everything that the admin response to students rising up for anti-racism is to fill the building with cops pic.twitter.com/6W1IODUAgI

— NLG @ DU (@NLGatDenverLaw) March 7, 2023
Prior to the speech, "the DU law school's student chapter of the National Lawyers Guild, a hard-left activist group, has spent the last week 'demanding' that the administration 'cancel' Shapiro's speech," National Review reported:
After some criticism on Twitter, the DU NLG appears to have made the open letter they were circulating private. That now-inaccessible letter, while mentioning in passing the original tweet that prompted Shapiro's Georgetown cancellation, cited his "attacks on DEI initiatives in higher education" as its primary concern: If "the University and law school believe that diversity, equity, and inclusion are essential components of a world-class education," it writes, "then it is beyond debate that hosting a staunch opponent of DEI and racial justice initiatives is inconsistent with that mission." Apparently, DEI — a doctrine that emerged five minutes ago — is now beyond debate; so much so, in fact, that its critics are no longer deserving of access to public forums.
Shapiro said that despite giving his speech Tuesday at DU Law, the protest made its mark. He also pointed out that the law students from the Federalist Society who had invited him were verbally grilled by administration prior to his talk.
"At the end of the day, I was able to speak, but gosh there was a gauntlet, definitely a chilling effect," he said. "I have pretty thick skin, but I'd rather not go through all that annoyance, and students next time might think twice about inviting a 'controversial' speaker, someone who does not think there should be racial preferences in employment and admissions."
MORE: Ilya Shapiro shares his top takeaways from Georgetown cancel culture experience
IMAGE: Twitter screenshot
Like The College Fix on Facebook / Follow us on Twitter