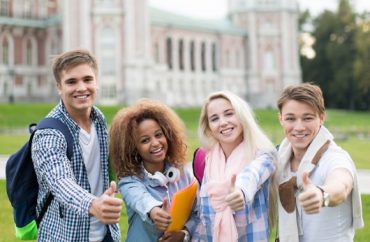 Writing in The Wall Street Journal, Cornell University President Martha Pollack and Provost Michael Kotlikoff explain why they will reopen the Ivy League institution to students this fall.
Citing epidemiological modeling done by Cornell scholars, the two administrators argue that letting students congregate on their own with online schooling would actually do more harm than good. That's because Cornell plans to institute a variety of safety measures that these students would not otherwise be subjected to if left to their own devices, they argue.
"Surprisingly, epidemiological modeling done by a group led by Cornell Prof. Peter Frazier suggests that despite playing it safe, sometime during the fall University B [which stayed online] may well experience markedly worse health outcomes in its community, while University A [which reopened with safety measures] will have more effectively safeguarded public health," they state, adding:
At colleges where many students live off-campus in leased apartments, students are likely to return to their college town or city even if education is online. Our surveys indicate that as many as 50% of undergraduates plan to return to Ithaca this fall, whether or not Cornell is open for residential instruction. If we are fully online, they will live together and interact free from the virus screening or behavioral requirements that would be in effect if the university were reopened. Students who don't live in our dormitories are largely beyond the reach of campus regulations. Since evidence suggests that most infections among those of college age occur without symptoms, students returning to small college towns, or to student neighborhoods adjoining campuses in urban centers, will have little reason to seek testing on their own and will mix freely with local residents. …

Mr. Frazier's model shows that for schools like ours, efficient virus screening of a residential student population as a part of a comprehensive disease surveillance program is the safest way forward. Our modeling shows that this testing must be done early and often, but since universities contain thousands or tens of thousands of students, testing every student is impractical and cost-prohibitive. An essential part of an effective screening strategy, then, is pooled testing, which involves combining samples from many students so that only those pools that contain a positive sample need to be individually tested to identify the infected person. …

As universities like Cornell make difficult decisions about the fall semester, it's important to consider the risks of not reopening alongside the risks of opening. Epidemiological modeling suggests, perhaps counterintuitively, that if a university is prepared to put in place a comprehensive virus screening program followed up with supportive quarantine and isolation—in addition to other effective public health measures—reopening may be the more responsible option.
Read the entire op-ed at The Wall Street Journal.
MORE: Pitt School of Medicine tells media: Stop hyping COVID case counts
IMAGE: Shutterstock
Like The College Fix on Facebook / Follow us on Twitter