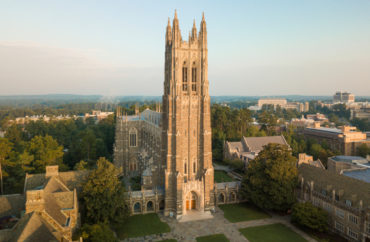 On March 21 and 22 this year, Duke University and its academic medical system, Duke Health, held a conference it called the 2022 Sexual and Gender Minority Health Symposium.
John Sailer, a research associate at the National Association of Scholars, attended the symposium and reported the goings-on, which included sessions like "Intersection of Race and Gender Diversity," "Teen Transitions," "Sports Participation," and "Queer Experiences of Autism."
Sailer noted the speech of Elle Lett, a transgender woman who criticized a newly proposed data collection tool from the National Academies of Sciences, Engineering, and Medicine:
The tool, Lett believes, is not sufficiently inclusive, as its creators deferred to proven methods.

"The way we have to prove y'all's stuff is a direct output of white supremacy," Lett says before concluding: "This is going to be uncomfortable, but the trans people who are defending this are trans masculine people, white trans masculine people.… Y'all live this world very differently."
"Throughout, the proceedings took on Lett's tone, emphasizing the primacy of granular intersectionality, the prevalence of identity-based oppression, and a flurry of faculty-lounge neologisms," Sailer reported.
He noted some of the sports-related commentary during the conference:
"We have to begin to decolonize gender," notes media content creator Sir Lex Kennedy. "We have a very colonized belief of what gender is, and that's because of imperialism and colonization."

"How many women of color were at that national championship?" asks Penn State kinesiologist Jaime Schultz, commenting on the "really ugly" protests over Lia Thomas's NCAA victories.

"All a penis is, is just a large clitoris," opines Marci Bowers, celebrated as the first person to have delivered ​​more than two thousand babies and performed more than two thousand vaginoplasties.
Sailer was most alarmed by the "Teen Transitions" discussion group:
The panel included Johanna Olson-Kennedy, a prominent pediatric gender specialist, and Marci Bowers, a surgeon described on the symposium website as the "Georgia O'Keeffe of genitalia."

Bowers managed to strike a tone that, to an observer unfamiliar with the debate, could easily sound heterodox. ("We're not immune to modification, to listening, to concern about detransitioners.") When the moderator asked what research questions the panelists had, Bowers was quick to respond with two: the appropriate timing of transition and the problem of detransitioners.

This might sound like an opening for dissent, but it functioned like crisis management. Bowers's main concern about timing? Vulvoplasty is more difficult to perform on a male child who has used puberty blockers. On the question of detransitioners, Bowers offered a number of scattershot comments, acknowledging but ultimately dismissing the problem.
Read the full article here.
MORE: Duke University to pay $112.5 million for faking scientific research data
IMAGE: Duke University
Like The College Fix on Facebook / Follow us on Twitter