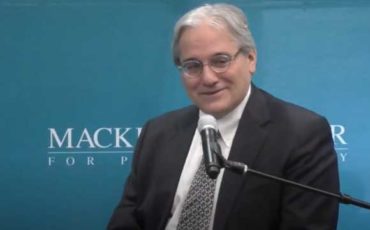 Aspiring dog and horse doctors who hope to escape lectures about white privilege and "anti-racism" are in for a rude awakening.
A recent analysis by the Legal Insurrection Foundation found that even the nation's veterinary schools have become infected with critical race theory and DEI ideology.
Professor William Jacobson (pictured), a legal scholar at Cornell University, recently shared his findings alongside Kemberlee Kaye, who works at the academic's Legal Insurrection Foundation.
"Eight of the top 11 schools now have CRT/DEI curriculum or training; three have school-wide mandatory CRT training," the pair wrote in the New York Post. "The staff and faculty training prognosis is much worse. Eight of the 11 schools have some sort of mandatory faculty and staff training. Six of the 11 integrate DEI into their search and hiring processes."
The pair wrote:
Lamentably, DEI has penetrated deeply into the training of veterinarians who will take care of your pets, based on claims that "the industry was exclusively for White people" and, as Cornell says, "building anti-racism in animal welfare" is needed.

White pet owners "not wanting a Black veterinarian treating their pet" is allegedly pervasive, per the American Veterinary Medical Association.
The increase in DEI is not by accident – instead it comes from the top.
They wrote:
Late in 2020, the American Veterinary Medical Association, with the American Association of Veterinary Medical Colleges, created the Commission for a Diverse, Equitable and Inclusive Veterinary Profession to promote "the value of diversity, equity, and inclusion throughout the veterinary profession" and encourage and help "veterinary medical associations and animal health companies to measure and improve diversity, equity, and inclusion."

Its recommendations include giving "guidance" to vet schools on "creating a brave space for DEI issues and discussions, implicit bias and microaggression training" — and, of course, "a permanent DEI position," along with incorporating "DEI content in the professional program."
MORE: Legal Insurrection launches new project to fight 'equity discrimination'
IMAGE: Legal Insurrection/YouTube
Like The College Fix on Facebook / Follow us on Twitter