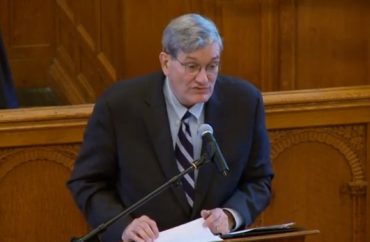 Mania for 'diversity, inclusion and equity' has replaced pursuit of knowledge
José Cabranes has never let his service on the 2nd U.S. Circuit Court of Appeals stop him from warning the public about alarming trends in higher education.
Five years ago the former trustee and general counsel at Yale University signed a letter demanding that the nation's trustees tackle political correctness run amok on campus, saying it undermines "the free exchange of ideas."
Two years ago he wrote in The Washington Post that progressives were bringing Cold War-style censorship to higher education with their administrative demands on faculty to put social justice over free inquiry.
Now the sitting judge – elevated to the appeals court by President Clinton – is on The Wall Street Journal op-ed page with an excerpt from his recent speech to the American Council of Trustees and Alumni.
Honored for his "outstanding contribution to liberal arts education" last month, Cabranes blames the "new alliance of activists and administrators" on a "far-reaching intellectual confusion that pervades the nation's campuses, from dorm rooms to classrooms":
Too many in higher education are unwilling or unable to maintain a distinction that lies at the core of the liberal democratic project, and at the center of the West's intellectual tradition: the distinction between inquiry and action, speech and conduct.
This is why federal courts on a near-monthly basis are reprimanding colleges and universities for "improperly chilling speech" and faculty hiring has slowed "even as the cost of tuition grows," he says.
He notes the "remarkable evolution of Yale's mission statement" from the promotion of "knowledge" to "improving the world" with nary a mention of knowledge. When he was legal advisor to "three Yale presidents, I was pleased to think that my job was largely to protect our faculty from undue risks, so that the university could fulfill its core mission as a place of inquiry."
Those days are long gone. University staff now "seek to achieve diversity, inclusion and equity—defined, ever vaguely, on their terms. And so the nonfaculty staff—who, unlike the faculty, are dedicated to doing rather than deliberating—set the tone on campus," Cabranes writes.
The average reader is probably in the dark about how little power faculty have in the admissions process, with deleterious consequences for academic freedom, he continues:
Faculty members who want to be involved in admissions are relegated to toothless advisory committees, where they are lucky to be invited to glimpse the making of the sausage. Admissions "professionals" are less interested in traditional academic criteria, such as scholastic talent and intellectual openness, than they are in flashier virtues such as "activism," "leadership" or "overcoming adversity." …

The contemporary admissions process thus reflects and advances a transformation of the university from a place of thought to an instrument of social action. Is it any wonder that students go searching for windmills at which to tilt?
Similar to admonitions from political scientists that Congress must reassert itself against the ever-growing blob of the administrative state, Cabranes calls on faculty to "reassert its historic centrality in the university and stand ready to protect the search for truth."
But he also wants governing boards to stop being rubber stamps for social justice-driven administrative decrees, and alumni to make their displeasure palpable to money-hungry development staff:
Trustees can start by recalling their considerable legal authority. They should demand detailed justifications for each and every deputy deanship and assistant directorship that swells the bureaucratic ranks. …

Alumni must also become wiser in their philanthropy. At big-name institutions, bureaucratic bloat is made possible by immense endowments and endless fundraising campaigns.
In remarks that conservatives should chew on, Cabranes also sees a role for students coming to American institutions from abroad. They came to this country "to learn in a free and open environment" – and they "may yet ensure that our country remains a source of inspiration and hope."
IMAGE: Yale Law School/YouTube
Like The College Fix on Facebook / Follow us on Twitter