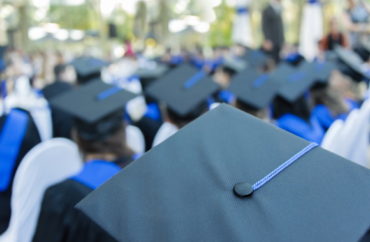 'We encourage businesses to re-think hiring procedures and remove the stigmas associated with non-traditional degrees'
Nearly 50 percent of recent college graduates have not applied to entry-level positions because they feel underqualified and unsure of their skills, according to a new report.
"This confusion and lack of confidence is causing today's graduates to question the value of their education and overall career readiness," the Cengage Group's 2022 graduate employability report found.
The group's online survey questioned 1,000 grads in May 2022 who completed their education program within the past 12 months from both two- and four-year colleges and universities as well as from non-degree programs, including vocational and certification programs.
"What we found is that all graduates are confused about the applicable value of their credentials and many are regretful of the choices they made," the report stated.
"Our research – on traditional degree graduates and non-degree graduates – found that confusion about the marketability of their skills creates an immediate barrier to their employability. Graduates in both streams are self-selecting out of potential entry-level opportunities, with 53% of traditional degree graduates and 49% of non-degree graduates saying they had not applied to an entry-level job in their field because they felt underqualified."
A news release summarizing the 13-page report identified several additional key findings, including "buyer's remorse" among recent grads.
The news release stated:
With the average graduate taking on $37,000 in debt, many are experiencing "buyer's remorse" and just 25 percent say they would follow the same education path. Even more concerning is graduates' regret in choosing their field of study, with more than half of all graduates (55 percent) saying they had second thoughts about the program they were studying, but felt it was too late to switch courses. Instead, 41 percent of graduates say they would focus on getting a credential in a more "in-demand field."

"Various economic circumstances – inflation spiking, job opportunities and resignations flourishing, and a potential recession looming – are pushing many graduates to question their education and career choices. On top of that, a growing focus on skills-based hiring juxtaposed with the stigma of non-degree programs are leaving graduates confused about what education pathways provide a good return on investment and best prepare them for the workforce," said Michael E. Hansen, CEO of Cengage Group. …

"Employers today desperately need workers who possess the skills needed to perform specialized, modern day work, and we're seeing many workers pursue shorter-term online training courses that allow them to acquire these skills more quickly and affordably. With many graduates now pursuing non-traditional education paths, this is a huge talent opportunity for employers and we encourage businesses to re-think hiring procedures and remove the stigmas associated with non-traditional degrees."
The Cengage Group describes itself as a "global education technology company serving millions of learners, provides affordable, quality digital products and services that equip students with the skills and competencies needed to be job ready."
MORE: College degrees are becoming irrelevant, career coach says
IMAGE: Mr. Nikon / Shutterstock
Like The College Fix on Facebook / Follow us on Twitter