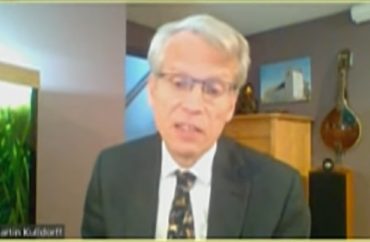 Harvard Medical School Professor Martin Kulldorff recently explained why he spoke out against COVID lockdowns.
The author of the Great Barrington Declaration also advised the Centers for Disease Control and Prevention on vaccine safety, before being removed for saying that there should not have been a pause on the use of the Johnson and Johnson vaccine. The CDC adapted his position less than a week later.
"I had no choice but to speak out against lockdowns," Kulldorff said in a recent essay. "As a public-health scientist with decades of experience working on infectious-disease outbreaks, I couldn't stay silent."
He wrote in spiked about why he could not remain silent:
Not when basic principles of public health are thrown out of the window. Not when the working class is thrown under the bus. Not when lockdown opponents were thrown to the wolves. There was never a scientific consensus for lockdowns. That balloon had to be popped.
He said that he supported protecting older people, but found the measures to protect children troubling. The father of three said he did not see evidence to support closing down schools.
"We had to protect older, high-risk people while younger low-risk adults kept society moving," the epidemiologist said. "But that didn't happen. Instead, schools closed while nursing homes went unprotected."
But he said he could not get a publication to publish his opinion pieces in the U.S. and had at first to go to Sweden and publications such as spiked.
The harms of silencing Kulldorff and similar scientists who raised objections to COVID policies were great.
"Instead of understanding the pandemic, we were encouraged to fear it.," he said.
He explained:
Instead of life, we got lockdowns and death. We got delayed cancer diagnoses, worse cardiovascular-disease outcomes, deteriorating mental health, and a lot more collateral public-health damage from lockdown. Children, the elderly and the working class were the hardest hit by what can only be described as the biggest public-health fiasco in history.
IMAGE: First Coast News/YouTube
Like The College Fix on Facebook / Follow us on Twitter