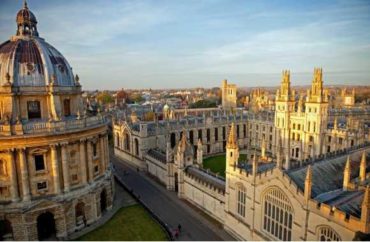 Experts at Oxford Archaeology have discovered 500-year-old buried remains of a "lost" college at a University of Oxford construction site, writes Jane Recker in Smithsonian Magazine.
Unearthed in central Oxford, England, the limestone foundations are believed to have formed part of St. Mary's College, demolished by Henry VIII in the 1530s.
The team of archaeologists unearthed an enormous limestone wall foundation, floor tiles and a pits containing animal bones, likely part of a kitchen, Recker stated.
St. Mary's College was created in 1435 for the education of Augustinian canons, or Catholic clergymen, studying at the university, according to BBC News.
Recker states that St. Mary's was one of many Catholic religious sites destroyed and plundered as a casualty of Henry's reign and the ascendent Church of England.
"In November 1534, Henry created the Church of England, independent of the powerful Roman Catholic Church, after the Vatican refused the monarch's request to divorce Catherine of Aragon," she wrote.
"Henry ordered the closure of all monasteries loyal to the Papacy in Rome, including the Augustinians."
Alongside the ruins of St. Mary's, archaeologists also discovered parts of a high-status property holder's house built in the Norman period of England, from 1066-1154.
"We are hoping to shed light not only on the layout of the lost college of St Mary's, but also discover evidence that tells us about the lives of some of medieval Oxford's most powerful Norman families who probably lived at the site," Ben Ford, senior project manager at Oxford Archeology, told the BBC.
MORE: Goodbye Mozart? Oxford looks to move away from 'white European music from the slave period'
IMAGE: Shutterstock
Like The College Fix on Facebook / Follow us on Twitter