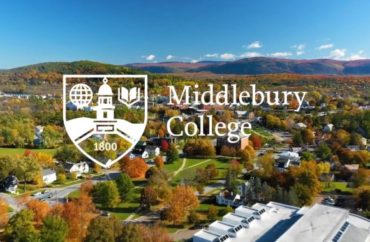 Middlebury's Honor Code prevents faculty from supervising their own exams
An elite liberal arts school student called on her administration to act to prevent academic dishonesty.
Hannah Sayre had "observed cheating on an egregious level" in one of her midterms at Middlebury College in Vermont, she wrote April 13 in The Middlebury Campus. 
Several students had openly looked up answers on their phones and copied from each other's papers during the full two hours of an in-person test, she wrote.
"The fact that this group of students felt comfortable being so conspicuous with their cheating underscores the tenacity of the culture of cheating at Middlebury," according to Sayres. "While this episode of cheating was unusually blatant, it is not the first I have seen, and I don't expect it to be the last."
No Middlebury department save economics proctors its exams, Sayres wrote. Faced with a barrage of cheating, that one department made an exception to the college Honor Code, which relies on the assumption that the college community "values academic integrity as a way of life."
Faculty must "support an intellectual environment of trust and respect for students by giving unproctored exams in which they are available nearby to answer questions, but do not hover over students to monitor potential cheaters," according to the Code.
Yet such an environment is an "unattainable utopia," Sayres wrote:
Administrators overestimate students' commitment to this mission. Cheaters will exist at every academic institution, no matter how elite or justice-oriented. As a college that aims to provide a lifetime of opportunity for every student, Middlebury's role should be to disincentivize cheating and to create an environment where students feel comfortable reporting it when it occurs. This would level the playing field among students. Middlebury students are smart enough to know that cheating can distort formal and informal curves, as well as professors' views on the student body as a whole. A culture of cheating can incentivize honest students to cheat, as well, so as to compete academically — if some kids are getting a higher grade from cheating, shouldn't I cheat as well?
The Code also mandates that peers report cheating, but that's "not so simple," Sayres wrote.
"No one wants to be known as a snitch, and there's no such thing as anonymity when reporting leads to an investigation."
Instead, "replacing student proctors with professors and proctoring exams in every department is the most effective way to disincentivize cheating on in-person exams," she wrote.
Middlebury College's acceptance rate was 15 percent in 2022, according to its website. Tuition for the 2023-24 academic year is $64,800, not including room and board.
MORE: Professors say cheating now rampant thanks to remote learning, advanced tech, AI
IMAGE: Middlebury College/YouTube
Like The College Fix on Facebook / Follow us on Twitter