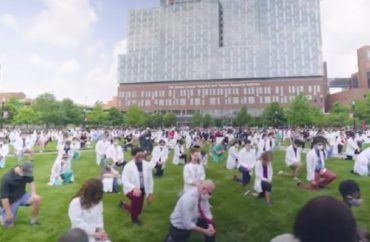 Medical schools and the broader healthcare establishment are succumbing to "Race Marxism" which refers to dividing people by sex and race, versus economic status as the classical version of Marxism does.
The Daily Caller reported:
The move to pressure healthcare professionals to repeat the claim that racial health disparities are caused by racism and not lifestyle choices is part of a broader, years-long push to hardwire "race Marxism" into the medical field. The effort stretches from medical schools and research institutions to patient care and medical administration, with potentially devastating effects for patients and the healthcare system as a whole.
The conservative news site interviewed doctors who criticized the movement to incorporate "antiracism" into medicine.
One example is the over 1,000 health professionals, many also med school professors, who signed a letter encouraging protests after the death of George Floyd in May 2020. At the time, businesses and churches were being shut down to slow the spread of COVID.
The letter specifically explained how protesters against the medical establishment supported lockdowns differed from Black Lives Matter protests. "A public health response to these demonstrations is also warranted, but this message must be wholly different from the response to white protesters resisting stay-home orders," the letter said, referencing some armed activists who protested at the State Capitol in Michigan.
The Daily Caller report also highlighted how studies on racial disparities can miss the point but still be amplified by the media and professors.
The Daily Caller said:
A 2020 study on racial disparities in birthing mortality for newborns found that black newborns cared for by black doctors are half as likely to die compared to black babies treated by white physicians. The study failed to note that, in cases of a bad NICU outcome, the department chair or division chief is more likely to be listed as the doctor of record regardless of whether that doctor was ever involved in the care of the newborn. Department chairs and division chiefs are more likely to be white, according to [pediatrician Erica Li].
"It's garbage data in, garbage conclusion out … but what the public takes away is that white doctors are killing black babies. How is that going to create trust among our African American patients? I worry they will stop going to the hospital if they get sick," Li told The Daily Caller.
One of those researchers on the birthing mortality study, Rachel Hardeman, runs a new race-focused health center at the University of Minnesota.
She recently released a study that found an association between policing and preterm births, though the paper noted that it could not identify specific women who came into police contact and had a premature baby.
IMAGE: Ohio State University College of Medicine/YouTube
Like The College Fix on Facebook / Follow us on Twitter