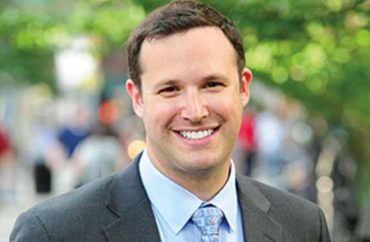 Though problems with colleges abound, from censorship to woke indoctrination to spiraling student loan debt, the GOP should not give up on campuses, political scientist Samuel Abrams wrote July 19 in RealClearEducation.
Despite recent surveys from elite college newspapers showing that liberals vastly outnumber conservatives on those campuses, a new poll from Harvard's Institute of Politics shows that most students today identify in the political center, Abrams (pictured), a fellow at the American Enterprise Institute, pointed out in his recent essay.
Findings show students are more politically moderate than some indicators might suggest. Thirty percent of Americans under 30 prefer that Democrats maintain control of Congress, according to the poll, and 28 percent prefer Republicans. Thirty-two percent are unsure.
Even more, Abrams cited a 2021 Gallup poll that showed that on average in 2021, 37 percent of Americans described their political views as moderate, 36 percent as conservative, and 25 percent as liberal.
Students are largely moderate, and more politically active than non-students
"The [Harvard Institute of Politics] data are in line with many other surveys and reveal that just a third (32 percent) of college students identify as liberal, with another 21 percent claiming to be conservative, Abrams wrote. "The plurality of students – 46 percent – call themselves moderates.
Additionally, the GOP should take note that college degree holders are more politically active and engaged than voters in general, Abrams argued:
According to the IOP survey, 46 percent of college degree-holders said that they were politically engaged, compared to just 25 percent of those who have no degree or are not attending college.

Similarly, more than half (55 percent) of degree-holders reported that they intended to cast a ballot this November, while just 29 percent of those not in college said the same…

These trends hold true in other areas. College students and graduates were appreciably more likely to claim having volunteered for community service (38 percent and 40 percent) compared to those who hold no degree (25 percent). While low numbers reported having participated in a government, political, or issue-related organization, degree-holders were twice as likely to report doing so (13% for degree-holders, compared to 7 percent of non-degree respondents)….

Degree-holders were also twice as likely to participate in rallies or demonstrations compared to non-degree holders (26 percent versus 13 percent). And when it comes to volunteering on a political campaign for a candidate or an issue, degree holders were significantly more likely to have done so, with one in five saying they did, versus just one in ten of those who are not in college or hold no degree.
In short, colleges are full of moderate but active voters primed for persuasion. Republicans and conservatives should act accordingly, and try to build up their presence on campus, "not abandon those cohorts to the left," Abrams said.
IMAGE: American Enterprise Institute
Like The College Fix on Facebook / Follow us on Twitter