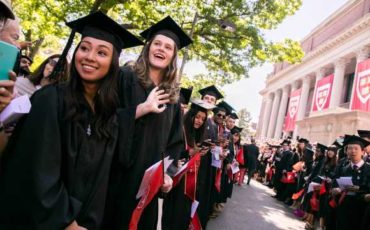 But survey did not define the terms 'progressive' or 'conservative' 
Most members of the Harvard class of 2022 call themselves "progressive" or "very progressive," according to a survey by the campus newspaper.
The survey, conducted annually by The Harvard Crimson, asked seniors questions about academics, their lifestyles, campus politics, national politics, COVID-19, and their plans for the future.
The Crimson emailed the anonymous survey to each senior in early May and received responses from 493 students, or roughly 39 percent of the class.
Though it doesn't give a full picture, the survey offers a glimpse at the political affiliations and policy views of the country's rising elite.
"Like previous classes, the majority of this graduating class identified as progressive and affiliated with the Democratic party; they were deeply critical of former President Donald Trump and the Trump administration's handling of the COVID-19 pandemic," The Crimson reported.
Respondents who identified as "progressive" or "very progressive" made up 68.6 percent of the total, a clear majority. Just 6.4 percent identified as "conservative" or "very conservative."
This percentage is down slightly from the "vast majority" of respondents from the class of 2021. Eighty-seven percent of last year's seniors identified as "progressive" or "very progressive," according to that survey.
Ten percent of this year's respondents said that "all of their closest friends" share their political views, and a majority, 52 percent, said that most do.
While 93 percent of respondents reported unfavorable views of former President Trump, just 30 percent view President Joe Biden unfavorably.
That represents an approximately 30 percent drop from last year's class; two-thirds of them had favorable views of Biden.
Seniors reported majority approval of several causes typically aligned with leftist politics, including "anti-police brutality protests" (77.3 percent) and "defunding or abolishing ICE" (54.1 percent).
However, some responses aligned less typically with partisan politics. Just 33.8 percent approved of the Palestinian Boycott, Divestment, Sanctions movement, while 21.1 percent disapproved.
Perhaps in contradiction with the progressive confidence in moral development through history – as articulated in the famous quote, "the arc of the moral universe is long, but it bends towards justice" – more than half of respondents said they thought the United States is "off on the wrong track."
Apparently, to a majority of Harvard seniors, the American moral universe arc is bent out of shape.
'Progressive' students clearly in the majority, but it's unclear what that means
Though the survey tells us how students rate a handful of political causes and the political labels they use to describe themselves, it doesn't offer much insight into the content of those terms, which are abstract and debatable.
When Harvard students said that they were "progressive," did they mean that they align themselves with the progressive movement historically – for example, with reformers who strengthened and expanded the administrative state and used it to limit the concentration of wealth, to paraphrase Britannica?
They could have been signaling that they are "woke," approving of ideals and programs such as equity (i.e., prioritizing racial and gender representation in institutions proportionate to the surrounding community), race-conscious policies, cancel culture for the non-woke, and the replacement of sex with gender identity in culture and law.
Maybe they simply associate "progressivism" with fairness and treating people decently. Possibly they identify with it because it is the ideology with the most cultural cachet.
Furthermore, when that minority of students said they were "conservative," perhaps they were taking a classical approach, affirming a commitment to classical liberalism, limited government, Constitutional originalism or equality under the law.
Others might have been prioritizing religion, upholding moral values, or strengthening families.
Or perhaps they were simply objecting to some aspects of the progressive hegemony on campus.
Harvard College doesn't require a political theory class to graduate, and it's unclear how much the average senior could say about the content of their stated political affiliation.
It's a safe bet that most of the Class of 2022 will not vote Republican. But perhaps a more philosophically specific investigation would be necessary to identify where these powerful graduates will likely focus their energies and resources.
MORE: Only seven Harvard professors identify as conservative, 2021 survey finds
IMAGE: Harvard University/Facebook
Like The College Fix on Facebook / Follow us on Twitter