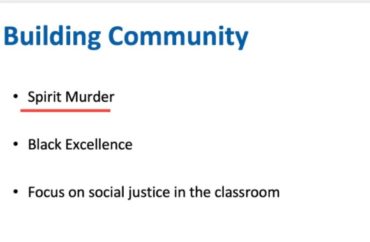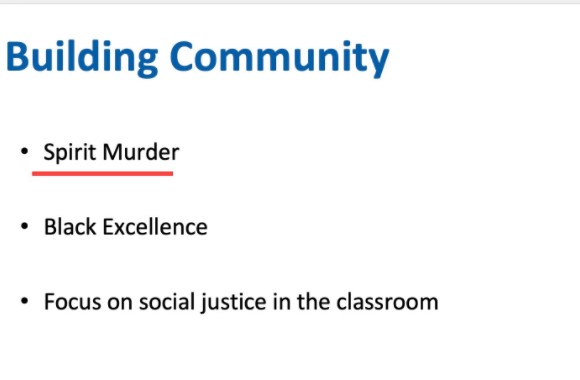 The purpose is to 'disguise the social and material failures of institutions'
Wouldn't it be great if public school teachers were trained on ways to objectively improve the lives of their less fortunate students?
Seattle Public Schools has a different approach: putting teachers through white-privilege performances instead of helping their children learn.
City Journal contributing editor Christopher Rufo, a documentary filmmaker, writes in the New York Post about "whistleblower documents" he obtained from a "racially charged teacher-training session."
Readers familiar with these sessions won't be surprised they started with a land acknowledgment that blamed teachers for colonizing the Puget Sound region and America as a whole for stealing labor from enslaved blacks.
But the Seattle teacher session also included personal race identifications alongside gender identifications, the first time Rufo has noticed this practice. (He's also exposed San Diego Public Schools training.)
The most inflammatory indoctrination may be a concept pioneered by University of Georgia Prof. Bettina Love, who founded the Abolitionist Teaching Network this year.
Rufo says the teachers discussed "spirit murder" (above) – the practice of schools murdering "the souls of black children every day through systemic, institutionalized, anti-black, state-sanctioned violence."
Far from promoting inclusiveness, the training taught instructors to divide the world into "enemies, allies and accomplices" and explain how they will practice "anti-racist pedagogy." Any resistance to being labeled racist simply because of their skin color is a result of the white person's "lizard-brain."
Seattle Public Schools is only building on its prior work in deploying "racial-equity teams" to neighborhood schools, which simply impose "a specific ideological agenda and a new ­racial hierarchy," according to Rufo.
Real pedagogy is the victim here, and evading accountability is the point:
­Seattle public schools have been closed to on-campus learning since the early days of the COVID-19 outbreak. In September, the school district reported that fewer than half of students attended any of the school's remote-learning offerings, with even worse attendance rates for minorities. Rather than address this crisis, which has doubtlessly expanded racial disparities, the district prioritized "white-privilege" training for teachers. …

In this sense, the educational woke regime mirrors the corporate one in function: All this ideological garment-rending and chest-beating serves to disguise the social and material failures of institutions.
Rufo has posted the documents he obtained in a lengthy Twitter thread.
The trainers begin by claiming that teachers are colonizers of Native American "ancestral lands" and that "the United States was built off the stolen labor of kidnapped and enslaved Black people's work, which created the profits that created our nation." pic.twitter.com/lTSXFACqDD

— Christopher F. Rufo ⚔️ (@realchrisrufo) December 18, 2020
IMAGE: Seattle Public Schools
Like The College Fix on Facebook / Follow us on Twitter