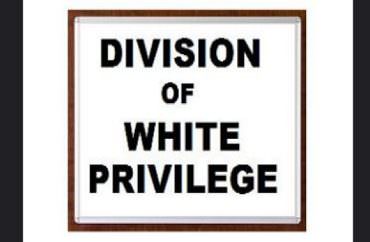 Teachers in the San Diego Unified School School District are required to sit through "white privilege" training which includes materials from popular "anti-racist" educators Robin DiAngelo and Ibram Kendi.
As reported by Christopher Rufo, (white) teachers who thought they went into education to teach reading, writing and math got it all wrong — they must become "anti-racist activists" in the classroom. (Rufo notes only 47 percent of SDUSD students are proficient in reading and math.)
A district PowerPoint presentation provided by Rufo in his piece is quite typical; my former district made use of the same subject matter nearly 20 years ago. Teachers are told to "speak their truth," "expect to experience discomfort" and "be explicit about race and racism" (but not too explicit as "coded language" is forbidden. Go figure.)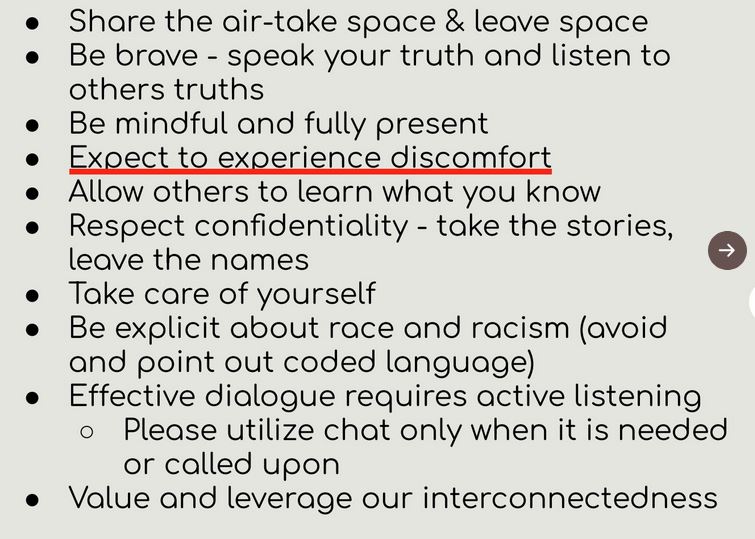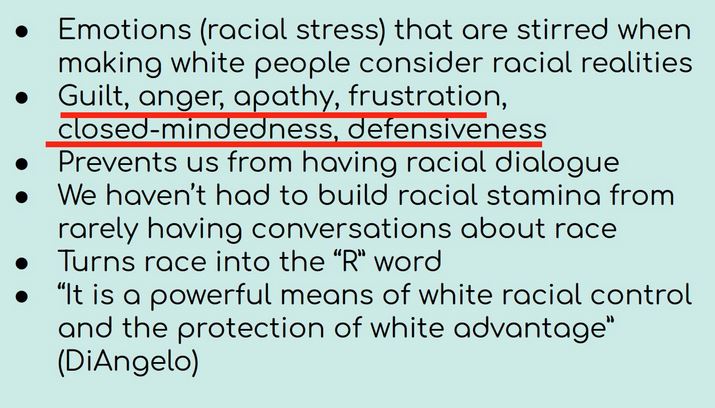 Unsurprisingly, the presentation begins with a "land acknowledgment" — teachers and the district occupy land "stolen" from the Kumeyaay people, and the "hidden history of violence" against Native Americans must be noted. (Although if teachers' personal truths are to be told, one may wonder how mentioning this would go over in the training.)
Subsequent slides feature the statements "You are racist" and "You are upholding racist ideas, structures and policies."


If someone said these to you, "how would this make you feel?" teachers are asked. This is followed by "what would you want to say to someone who tells you this?" (Remember, be brave! Speak your truth!) Then comes what really is the entire basis for DiAngelo's and Kendi's teachings, such that they are (and which "defies the principle of falsifiability"): "Your action or inaction can be racist or antiracist at any time depending on what you choose or choose not do."
A slide using statistics from 2016-2017 allegedly shows "white privilege" in action: The ten richest Americans are all white, the (obviously cherry-picked) House Freedom Caucus is 100% white, and the president and vice president are too. (Whoever made the slide must have forgotten that in 2016 Barack Obama was still president. Hopefully, someone "spoke their truth" and pointed this out.)
Ironically, the stats feature some of the most progressive institutions in the country: The folks who "decide" what we read and see in popular entertainment (aka Hollywood) are overwhelmingly white, as are college professors and school teachers. Not noted is that an elderly white man was just (apparently) elected president, and that the Democratic leaders in both legislative chambers also are (elderly) white people.
The College Fix asked San Diego Unified Superintendent Cindy Marten for comment about the trainings, but did not receive a response before publication.
MORE: Black leaders silent on paying Robin DiAngelo more than black speaker
MORE: Ibram Kendi bashes whites who adopt black children as 'colonizers'
IMAGES: Mike Licht / Flickr.com; Twitter screencaps via Christopher Rufo
Like The College Fix on Facebook / Follow us on Twitter