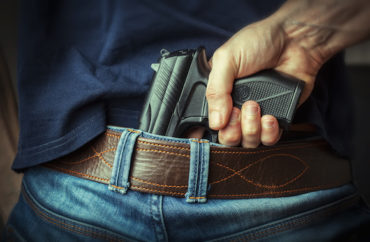 College students should be allowed to carry guns, which would reduce the likelihood of school shootings, a recent essay argued.
Writing at the Washington Examiner, Brad Polumbo said that the recent shooting at Michigan State University shows why college students should be allowed to conceal carry.
He wrote:
It's long past time to let college students carry guns, in the same way similarly situated young Americans who live elsewhere typically can.

Michigan State's campus is supposed to be a "gun-free zone," as students and staff alike are prohibited from lawfully carrying firearms. This is meant to keep the community safe, but in reality, it only leaves its members vulnerable if evil does arrive at their doorstep. Unfortunately, in this MSU is no outlier. Many states prohibit college students from exercising their Second Amendment right to bear arms.
Currently only 11 states explicitly allow campus carry, while in 23 other states the issue is left to the universities, "which usually results in campuses prohibiting firearms," Polumbo wrote.
He pointed out a "glaring inconsistency" in gun laws:
There's a glaring inconsistency in the law here. In most of these states that prohibit college students from carrying firearms, young adults can get a permit and conceal carry elsewhere in the state. For example, in Massachusetts, a typical 21-year-old not attending college can get a permit to carry a firearm and walk around with it in public. But if that same 21-year-old is a college student at one of Massachusetts's many public universities — which are supposed to be bound by the Constitution and forced to respect our rights — he cannot conceal carry on campus.
He called the lack of campus carry a "moral monstrosity and a threat to public safety."
MORE: Arizona campus carry advocate motivated by childhood in Communist country
IMAGE: Maksym Dykha / Shutterstock.com
Like The College Fix on Facebook / Follow us on Twitter