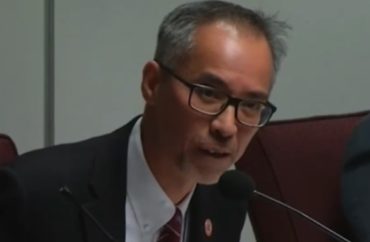 'Can you imagine if Cambodia had the Second Amendment?'
Legislation currently pending in Arizona would allow faculty members and students to "carry or possess" firearms while on campus, as long as they have their gun permits.
Young Americans for Liberty is supportive of the legislation because the libertarian organization believes it will help reduce crime on campus.
But the legislator behind the bill has a bigger concern too – preventing tyranny, like what he saw as a child during the Fall of Saigon during the Vietnam War.
The chief sponsor of House Bill 2447, Quang Nguyen (pictured), said he is motivated by his childhood in Vietnam.
"I came from a Communist country where people were actually killed at will," he said. "Can you imagine if Cambodia had the Second Amendment? We wouldn't have two million people killed by Pol Pot," he said at the February 9 hearing.
The Republican legislator is also a concealed carry instructor and the president of the Arizona State Rifle and Pistol Association.
He presented evidence his staff had compiled that showed crime went down at several Texas colleges examined after the Lone Star State's passage of campus carry.
He did not respond to a media inquiry sent in the past several weeks from The College Fix.
Young Americans for Liberty activists are making the same argument in support of the legislation.
"In 2019 alone, there were 23 instances of rape on the University of Arizona's main campus," Arizona state chair Timothy Tizon told the Judiciary Committee. "If campus carry can prevent one of these cases, it will be worth it. Students have the right to protect themselves off-campus, and that right should be protected, not skirted."
Representative Shawna Bolick sponsored the legislation with Nguyen. She's a member of YAL's Hazlitt Coalition of libertarian state legislators.
We have a lot of booze on campus, ASU police chief says in opposition to bill
Arizona State University's police chief, Michael Thompson, testified against the legislation, citing the prevalence of alcohol on campus.
"University students make bad decisions all the time," Thompson said. "Hourly, sometimes, even."
"We're dealing with students who don't have the ability, for the most part, to make life decisions, regarding carrying a firearm on campus," Chief Thompson said. "We have alcohol issues, we have mental health issues, we don't have supervision… there are a lot of variables that are added into the mix."
"The notion that [concealed carry] training is going to prevent a massive shooting is a fantasy," Thompson said.
The Fix emailed Chief Thompson and ASU spokesperson Jerry Gonzalez on March 10 to ask for further information on his claims but did not receive a response.
The Fix asked for any research he could share that shows an increase in shootings or other violence tied to campus carry, what studies he reviewed before coming to his conclusion and if he also opposed university employees being allowed to carry on campus.
ASU President Michael Crow's office has not returned a voicemail left on February 27 that asked for his position on the legislation.
Nguyen said that Thompson's comments on alcohol made him question if he'd send his own kids there. "You kind of scare me when you talk about kids drinking and doing drugs," Nguyen said. 
"You just made a case for me to not send my kids to ASU," Nguyen said. "Or even you're making the case for me that if I send my 21-year-old daughter to ASU she should be armed to protect herself."
MORE: Professors silent on past claims about danger of concealed carry
IMAGE: Arizona State Legislature
Like The College Fix on Facebook / Follow us on Twitter