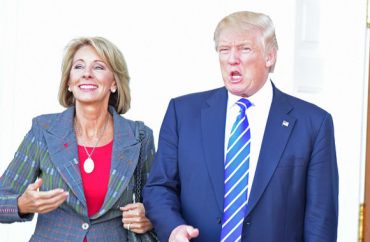 President Donald Trump and Secretary of Education Betsy DeVos* on Monday released the budget request for the U.S. Department of Education for the 2021 fiscal year, a proposal that calls for massive spending cuts and more local control of schools.
"This transformative, student-first budget prioritizes improving student achievement, reducing the outsized federal role in education, and returning control over education decisions to whom it belongs — state and local leaders, teachers, parents, and students," the education department states in a news release.
According to Politico, the proposed cuts represent a 7.8 percent reduction to Education Department programs. Suggestions include the cancellation of $3.9 billion from the Pell Grant Surplus and eliminating subsidized student loans and the Public Service Loan Forgiveness program, Forbes reports.
What's more, "DeVos proposes in the budget that the department cease overseeing nearly $20 billion in federal money that goes to various K-12 public school programs such as 'Indian Education' and '21st Century Community Learning Centers.' Instead, that money would roll into one block, and states would receive their share to spend on the local level," writes Eddie Scarry in the Washington Examiner. 
Also in the Washington Examiner, Neal McCluskey expands on the budget proposal:
Let's start with the best part: The budget would cut $6.1 billion in education spending overall and consolidate $19.4 billion worth of K-12 programs into simple block grants to states. That cuts federal strings off of a big chunk of education money, and doing so makes sense. …

Finally, the proposal contains some expansions of federal funding and intervention, contradicting constitutional principles and running counter to the overall positive tenor of the education budget. For good reason, career and technical education is trendy these days — we need more alternatives to increasingly less profitable college degrees — but there is no reason to increase federal spending on it by $900 million as this budget would do.

The federal government instead should just stop encouraging four-year degrees with profligate student aid.
Writing in Reason, senior editor Robby Soave argues the proposal is a good one but faces a very uphill battle:
If implemented, these reforms would reduce the federal government's influence over schools, which would be a welcome development. The U.S. is ill-suited to a national, one-size-fits-all education approach, and local officials are far more accountable to taxpayers than federal bureaucrats.

The budget also expands a school choice program known as the Education Freedom Scholarships, which provides tax incentives for people to donate money—on a voluntary basis—to state-based opportunity grants for students. Kids can then use these grants to find the right school for them. (Trump mentioned a similar program in his State of the Union address.)

Sadly, these proposals are unlikely to become law. Presidential budget suggestions are frequently overridden and revised by Congress. That's a shame. Shrinking the Education Department and block-granting funds for the states is precisely the kind of common-sense thinking that is often missing in D.C. policy maker circles.
MORE: Trump touts school choice as he criticizes 'failing government schools' during SOTU
Like The College Fix on Facebook / Follow us on Twitter