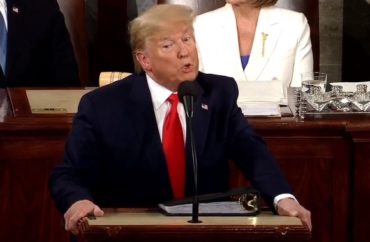 President Donald Trump on Tuesday pushed for school choice during his State of the Union speech, saying "no parent should be forced to send their child to a failing government school."
"The next step forward in building an inclusive society is making sure every young American gets a great education and the opportunity to achieve the American dream," Trump said. "Yet for too long, countless American children have been trapped in failing government schools."
"To rescue these students, 18 states have created school choice in the form of opportunity scholarships. The programs are so popular that tens of thousands of students remain on a waiting list."
He continued by calling on Congress to pass the Education Freedom Scholarships and Opportunities Act, "because no parent should be forced to send their child to a failing government school."
"Every young person should have a safe and secure environment in which to learn and to grow," the president said.
Education Dive reports that the act "would give $5 billion in annual federal tax credits for businesses and individuals who voluntarily donate to organizations providing private school scholarships. … However, Congress' 2020 budget, which included notable increases in education funding for other areas, set aside no funds for the scholarship program, suggesting it continues to face an uphill battle in both the House and Senate."
According to U.S. News and World Report, the tax credit scholarship has the support of about 100 members of Congress.
"The biggest concern about the proposal from conservatives and libertarians is that the flow of federal dollars to private and parochial schools would open them to all the federal regulations that schools that receive federal funds are required to abide by," U.S. News reports.
Fox Business reports that the "funds would be used for education opportunities like private and religious schools, apprenticeships, technical training and certification."
Vice President Mike Pence is expected to host another school choice event on Wednesday, Fox Business added, noting "in addition to school choice, President Trump asked lawmakers to support offering vocational and technical education in every single high school across the country."
MORE: Groups call on Supreme Court to toss anti-Catholic relic that blocks school choice
IMAGE: WhiteHouse.gov screenshot
Like The College Fix on Facebook / Follow us on Twitter