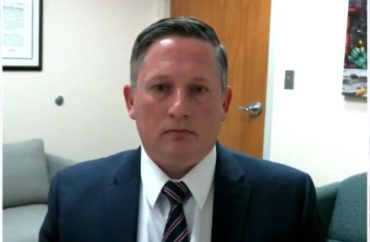 A University of Miami law professor who is under fire for his conservative social media posts recently wrote an essay critical of his peers for intolerance toward conservative viewpoints.
"I'm a rare breed, a law professor that is an unashamed conservative," Daniel Ravicher wrote in the Miami Herald. "Over my 15 years of teaching, countless students of all genders, races, and religions, have confided in me as one of — if not the — only faculty member at the with whom they could speak freely about political and social issues."
Ravicher is facing criticism from students and other professors for his tweets in support of President Trump as well as his comments on minority voting patterns and abortion.
He explained in his op-ed why so many students see him as one of the few professors they can openly converse with on their political beliefs.
Ravicher said:
This is because too many professors are intolerant of conservative ideas and students are rightfully afraid of being punished.

My conservative students feel pressure to adopt their professors' left-wing political views by answering in class and on exams that criminal laws are racist, limits on immigration are dehumanizing and defending the unborn is violence to women. These students mock the intolerant left sermonizing from behind podiums, but also lament not being able to express their conservative views without fear of reprisal.

I, too, keep my thoughts to myself while at the UM campus, but I have a Twitter account and find it an exhilarating Roman Coliseum of ideological debate. Many of my students follow me and we engage in ways we can't physically. And if spectators want to join in, all the better.
The law professor discussed the recent controversy over his Twitter account:
I'm too stubborn to give in to cancel culture and decided to fight as hard as I could against it.

I said that if people were upset by my tweets, they now knew how my conservative students felt being forced to listen to equally offensive ideas in class. I also pointed out how my statements were on Twitter, where no one is forced to listen, and how the Faculty Manual unambiguously defended my personal speech.

A couple days later, the administration emailed my students saying my academic integrity in grading was questionable and they could elect to change their grade to pass-fail. The evidence flatly refutes this accusation, as my student evaluations are impeccable, I'm frequently identified as one of the fairest professors in graduating student exit interviews … past students flooded the Dean after his letter with testimonials defending my character and professionalism.
The professor said he still does not know if he will return to campus, a month after the controversy started.
My employer finally issued a public statement that I have not been terminated or threatened with termination but failing to address whether I will have my contract renewed. I haven't won my battle against campus cancel culture because I've had to deal with demands that violate the Faculty Manual, been baselessly accused of lacking academic integrity. The chilling effect on conservative speech, including by students in particular, has been achieved.
"But fighting cancel culture must be done, because without free exchange of ideas, we are not going to produce the best citizens and the best policies," Ravicher said.
IMAGE: Fox News/YouTube
Like The College Fix on Facebook / Follow us on Twitter