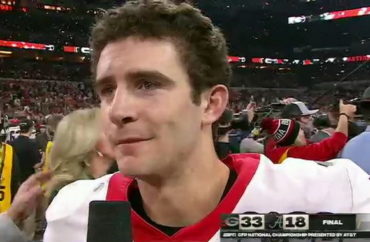 The University of Georgia won the College Football Playoff National Championship Game 33 to 18 on Monday night against the University of Alabama, marking the first time the Bulldogs won a national championship since 1980.
One of the feel-good stories emerging from the victory is that of Georgia quarterback Stetson Bennett, who pushed through numerous hurdles to become what amounts to a college football legend.
Bennett "passed on scholarships to smaller schools and chose to walk on at Georgia, only to leave for a junior college, return, lose the starting job and regain it due to an injury to the starter, all while dogged by Dawgs who didn't believe he had the flash or talent to compete against more dynamic QBs," ESPN reported, adding:
So, why stick with it? Because his only childhood dream was to do exactly what he did Monday night. The kid who went to games in Athens, Georgia, and ran around in his backyard with a football tucked under an arm that was draped in a UGA jersey, living out every fantasy of every kid in the world — winning it all for the team he was born adoring.
Bennett even had a rough start against Alabama, but never gave up and helped pull the team to victory. Fox News reports:
After beating Alabama on Monday night, Bennett was asked during an interview what his success means for the "little guy" who tries to buck the biggest odds. Bennett said he hopes his own success encourages others. Then Bennett said, "Keep your mouth shut. Work hard. Life is tough. Work through it."
Read the ESPN report here and the Fox News report here.
MORE: Sam's Club seeks college athletes named Sam for $10,000 sponsorship
IMAGE: ESPN screenshot
Like The College Fix on Facebook / Follow us on Twitter