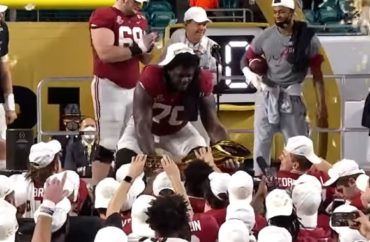 Companies find creative ways to sponsor college athletes
In June, the National Collegiate Athletic Association approved a policy allowing college athletes to profit off their name, image, and likeness, abbreviated NIL. Sam's Club is taking that literally.
College athletes named Sam — or some variation like Samatha and Samuel — now have a shot at a $10,000 sponsorship from the company. Athletes must follow in the footsteps of Sam's Club founder Sam Walton not only by sharing his name, but also by exemplifying sportsmanship and teamwork.
Samantha Sakti, a student gymnast on UCLA's nationally ranked team, told The College Fix that she knew the NCAA's long-standing NIL rules had changed but didn't realize her "literal name" would help her get a sponsorship.
A gymnast since she was five years old, Sakti is grateful to be a part of the first Sam's Club Athletes team — and wants to thank her parents for the name that made it possible.
"I want to thank my parents for naming me Samantha as well as Sam's Club for this unique opportunity," she said. "This is my first sponsorship, and I am excited to promote such a well-established company."
Sam's Club chief merchant Megan Crozier said in a news release that college athletics is a "natural fit" for the company because it already sells "game day essentials" for every sport.
"Supporting these athletes gives us a chance to connect with members in a new way, support students and rally behind many under-represented collegiate sports. It's a win-win," Crozier said.
A (sam)pling of ways students are winning with new NCAA policy
Sakti is one of four athletes already selected for the team, which includes Georgia State University wide receiver Sam Pinckney, University of Central Florida sprinter Samieryah Bradwell, and Southern Methodist University goalkeeper Sam Estrada.
The other six athletes will be chosen through a TikTok contest running through September 27th.
Sam's Club isn't the only company looking to sponsor student athletes. Taco John's "John-bassaor" program will sponsor college athletes across the upper Midwest named John, Johnson, or another form of the name.
Some athletes are already pulling in five figures or more, like University of Miami quarterback D'Eriq King, who signed a $20,000 deal with College Hunks Hauling Junk and Murphy Auto Group, CBS reported.
The number of companies looking to get in on sponsorships has only grown as time goes on. On September 22, Arby's announced on Twitter that it wanted to help college running backs "beef up" their bank accounts with its new #ArbysRBs team.
Don't be surprised if in the coming weeks Dunkin' Donuts announces a new basketball sponsorship, Desani decides to dive into the world of college swim, or Auntie Anne's creates a team full of gymnasts with extended relatives named Anne.
MORE: Topps could shape the future of college sports
IMAGE: ESPN College Football/YouTube
Like The College Fix on Facebook / Follow us on Twitter