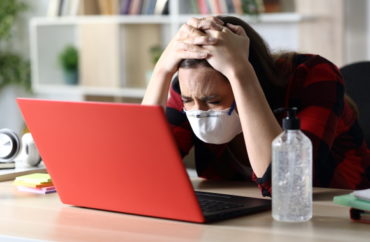 A public health professor recently described the ways college officials have misled students by telling them that vaccination would be the key to returning to a normal campus life.
Many schools "have gone all in on deceiving and gaslighting students by violating the bargain," Professor Leslie Bienen wrote recently at the Wall Street Journal.
Students and university officials agreed to the "implied and explicitly stated" agreement that students would have their freedoms return to them if they took the vaccine.
The Portland State University professor, who specializes in animal to human viral transmission, said that students took on the risks of the vaccines under the pretense of protecting "everyone else, including older staff and those who live with vulnerable people."
"Yet too many colleges and universities have failed to deliver on their end of the bargain," Bienen said. She gave several examples, including Rice University, Cornell and Amherst, that have instituted mask mandates and other social distancing restrictions, including online classes, despite high vaccination rates.
She said the data does not support the restrictions.
Bienen said:
What message does this send to young people? That they must uphold their end of the deal—get vaccinated despite their low risk—but the institutions have no obligation to uphold theirs. There are no data supporting these draconian restrictions in nearly 100% vaccinated and low-risk populations. Yes, the Delta variant is more transmissible. But while hospitalizations in 18- to 29-year-olds are up from their lows in July, they are half of what they were in winter, no doubt thanks to vaccination.
"These institutions should stop undermining their own moral authority by backpedaling on the deal they offered: Get vaccinated for others' benefit, and you can have a normal college experience," Bienen said.
Pheelings_Media/Shutterstock
Like The College Fix on Facebook / Follow us on Twitter