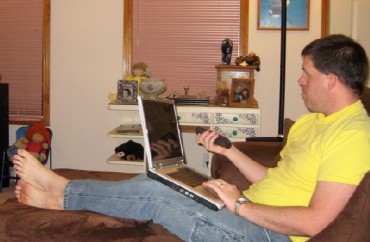 UPDATED
The leader of a group that seeks to hold Catholic universities accountable wants them to take the lead on fighting online porn usage among their students.
Patrick Reilly, the president of the Cardinal Newman Society, recently explained why Catholic colleges should work to combat pornography viewing among students.
He wrote in the National Catholic Register:
Pornography not only harms the user. It makes people commodities for fleeting pleasure, even to the point of violence and human trafficking. While Catholic colleges strive to form students to be more fully human, the most inhuman activity is prevalent — as best we know by anecdote and studies of college-age behavior — in the dorm rooms.

Studies indicate that upwards of two-thirds of high school and college-aged Americans view pornography at least weekly. These rates may be higher amid the coronavirus pandemic, with students spending more time alone and in their residences.
Reilly said that the lockdowns and quarantine measures have forced people to stay inside even more, especially on college campuses. Forcing students to stay inside their dorm rooms is a recipe for disaster.
He explained:
Social distancing limitations are difficult for college students, who are asked to avoid gatherings and campus events. Students are spending even longer hours in front of computers and cell phones, because of schoolwork or as an escape from boredom, isolation and loneliness.

For young people at home and in campus residences, the temptation and opportunity to view online pornography has probably never been higher.

…For the user, pornography erodes the Christian response to others and even the desire for authentic human relationships, especially in dating and marriage. It is highly addictive. There is every moral reason to tackle this terrible activity, but Catholic colleges also have a clear practical concern: pornography addiction can be a serious impediment to an academic life.
The society recently released a report detailing specific ways to fight pornography on Catholic college campuses.
In his piece, Reilly pointed out that "the battle against pornography begins in the home." However, "once students go off to college, they face a whole new set of challenges" which "Catholic colleges should help students overcome."
He concluded:
Catholic colleges should set the example on fighting pornography. It really ought to be a concern for secular colleges as well, given the clear warnings of mental health experts and the impact on a student's studies and participation in campus life. But with the added concern for students' moral formation and the danger of grave sin, Catholic colleges should take the lead in mitigating pornography use on campus, helping students avoid the temptation, and counseling students with addiction.
Editor's note: This post has been amended. 
IMAGE: Christopher/Flickr
Like The College Fix on Facebook / Follow us on Twitter