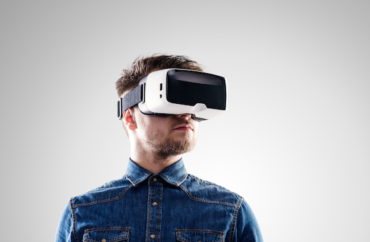 Program offers 'a back door' into eliminating bias
The University of Southern California's business school is offering community members the chance to eliminate their unconscious bias in virtual reality, using headsets to transport users to digital scenarios depicting discrimination in hiring practices.
The program, called "Exploring Unconscious Bias — A Virtual Reality Exercise," is offered by the Marshall School of Business; the business school "hopes to pilot this summer in its Experiential Learning Center," The Daily Trojan reports.
The program, presented as part of the university's "Diversity, Equity and Inclusion week," focuses on confronting and addressing "unconscious bias in the hiring process," the paper reports:
The program that the company is currently developing with the center puts users in a scenario in which they are responsible for choosing the best candidate for a job. The exercise will begin with students reading and ranking five applications. Then, students put on the VR headset to complete a 20-minute hiring process, including video interviews with the candidates, who will be played by actors…

After students select the candidate they believe is best for the job, two "higher-ups" take on the task of further evaluating the selected candidate. The student will observe the conversation, which will be tailored to include biased comments — for example, criticizing an applicant's tattoos.

In every scenario, the candidate the student selects ultimately will not be picked for the job. In the final portion of the exercise, students sit in the selected candidate's car while he or she is rejected over the phone.
According to one of the program's creators, the developers "wanted [to] create a narrative that created [emotional] investment for the student in the exercise."
The virtual reality experience is meant to "invite open conversation without making students defensive about the implicit biases they may have," one programmer said.
MORE: Scientists developing A.I. tool to combat 'hate speech' on social media
IMAGE: Halfpoint / Shutterstock.com
Like The College Fix on Facebook / Follow us on Twitter