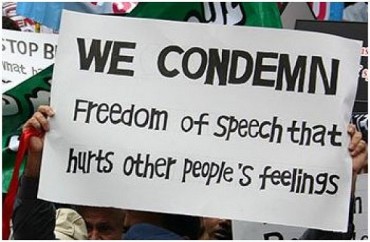 In what should be not very surprising at all, Oxford University's Student's Union has banned the student journalist magazine No Offence from "Fresher's Week" because it is, they claim, offensive.
The magazine's focus is, ironically, "to promote free speech and provoke debate."
But the S.U. said the publication violated "regulation thirteen of the Student Stallholders Regulations" which says "OUSU reserves the right to remove any materials, or prevent any activity, that may cause offense."
That's not too general, eh?
"We at OUSU do not wish to have an event which is intended to welcome new students to Oxford associated with a publication making light of racism, sexual violence, and homophobia in an attempt at satire.

"The Freshers' Fair is one of OUSU's most widely attended events and while Open Oxford are entitled to book a stall and distribute their publication elsewhere, we chose to withdraw their permission to distribute the publication.

"OUSU exists to represent and enhance the lives of all Oxford students and given that Freshers' Fair is for new students, we do not wish to subject them to the offensive views of a minority which are present in this publication. Such views are in no way representative of Oxford students as whole."
Who didn't see that coming?
No Offence's founder Jacob Williams said "There is nothing offensive about healthy debate. To ban us from promoting it on the grounds that people might be offended proves everything the free speech movement has been saying. No offence OUSU, but you just shot yourself in the foot."
Like The College Fix on Facebook / Follow us on Twitter
IMAGE: Sam Graham/Flickr