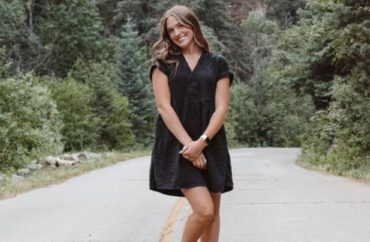 She at one point became paralyzed from a different vaccine
Brigham Young University Hawaii has refused to grant a medical exemption to incoming freshman Olivia Sandor despite her having a condition that makes receiving a COVID vaccine potentially dangerous.
Sandor wrote on Instagram on July 13 that she developed Guillain-Barré Syndrome in 2019 as a side-effect of a vaccination, though she did not say what vaccine she received.
"Guillain Barre is an auto-immune disease caused by vaccines which resulted in me being hospitalized and being paralyzed from the waist down," Sandor (right) wrote on Instagram. She shared her story of being able to regain the ability to walk.
On July 13, the FDA said that people who received the Johnson and Johnson vaccine have "an observed increased risk," of developing GBS.
"GBS is a neurological disorder in which the body's immune system damages nerve cells, causing muscle weakness, or in the most severe cases, paralysis," the FDA explained.
But, despite the fact that her doctors and the CDC have said that vaccines could lead to her being paralyzed again or lead to death, the Mormon university denied her exemption. University officials have not mandated the vaccine for employees.
MORE: Community college withdraws mandate after nine days
"Was this a joke? I was devastated to say the least," Sandor asked.
She continued that she took this issue higher up the chain of command. Sandor and her family spoke to the President of BYU Hawaii. Sandor told him her story, how she dreamed of attending BYU and how hard she worked to get to her goal.
"Fortunately enough we were able to get a response back from him," Sandor said. "He told us that he would re-review my case with the medical panel and get back to me as fast as they could."
A few days later, her request was denied again.
"Again, I was devastated, but at the same time I felt peace," Sandor said. "I may have worked so hard to get there, but now I know that wasn't the Lord's plan for me. I'm proud to say I did everything I could to fight it."
Sandor did not respond to a July 14 email and a July 15 Instagram direct message that asked her to share communications she had received from the university. The College Fix also asked her if she had any religious objections to the vaccine as well and if there are any inoculations she can safely receive.
Conservative group has recently launched a 'No Forced Vax' campaign
Recently, Turning Point USA launched its "No Forced Vax" campaign to assist students fighting COVID vaccine mandates.
It shared the communications between Sandor and the university, which included a letter from her doctor.
The university told Sandor that it could not grant her an exemption, but recommended she attend another of the BYU campuses. The Provo and Idaho BYU institutions have not mandated the vaccine yet.
"I'm not really sure how that's humane," Sandor wrote in response.
"If everyone around me has had the vaccine and those on the island have tested negative for COVID (including me) how am I a threat to the community," Sandor asked.
University takes notice
University officials have taken notice, it appears, of Sandor's comments.
"We kindly ask that questions and comments concerning the COVID-19 vaccination policy be directed to [email protected] to help mainstream communication in light of recent events on social media," BYUH wrote on its Instagram page.
It did not respond to a July 16 email from The College Fix that asked for comment on the situation, the exemption policy and how many students had asked to be exempted from the mandate and how many students had been approved to not be vaccinated.
It has not posted anything else on its Instagram page as of July 17.
MORE: Student tests negative 17 times for COVID, still has to mask outside while alone
IMAGE: Olivia Sandor/Instagram
Like The College Fix on Facebook / Follow us on Twitter