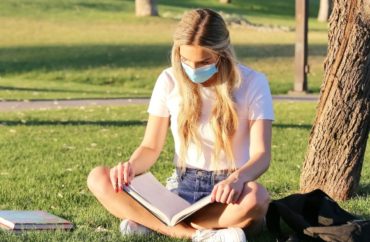 ANALYSIS: Students at my school have a .2 percent test positivity rate. We're going to be okay if we hang out or pass each other on the sidewalk without masks
I am all for following rules to keep people safe, and I am not against wearing masks. However, I am also for common sense, and some of my school's rules are redundant.
I've tested negative for COVID 17 times. Ditto my whole floor, residence hall, and every student on campus — we're required to test twice per week, after all. It's safe to say that if someone got COVID, it's been caught and that person is quarantining.
However, Mt. Holyoke College's Community Compact says that "masks or cloth face coverings are required when in the presence of others and when outside of your personal room — including outdoors."
It doesn't matter what the conditions are. I can be walking outside–without a single soul in sight–and I still have to wear a mask. I can be sitting alone in one of the massive common rooms my school offers, and yet, I still need to wear a mask.
MORE: Professor COVID research over hostility to his findings
I can peek my head outside of my dorm, and I would need to cover my mouth and nose. If I get caught exposing my entire bare face, I could have that infraction put on my record — or even worse — kicked off campus.
According to my school's COVID dashboard, we've had a total of 33 positive COVID tests this semester for a test positivity rate of .2 percent. This stat covers the roughly 900 students, faculty and staff on-campus.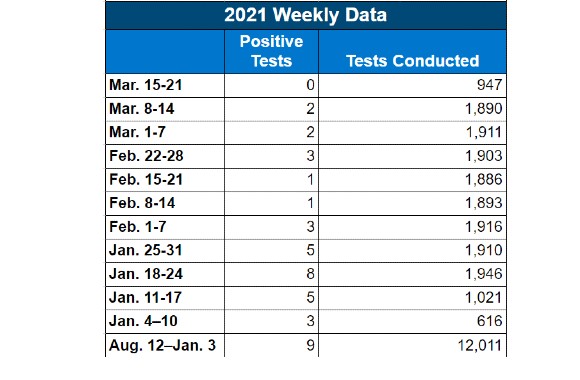 We wear a mask to avoid infecting others, but it is unlikely that will even happen.
There are scarcely any social events on campus, and when there are, the present parties have gone through all of the testing protocols. Most of us have hung out with the same group of people since January.
We're in a rural area in Massachusetts where cases have dropped since we've arrived. We can only travel within a 10-mile radius off campus. Most of us are too busy cooped up in our dorms attending Zoom classes to go anywhere.
Demographically, we have the lowest risk for COVID mortality
Most of the students are young and robust between the ages of 17-23.
According to the Centers for Disease Control and Prevention, people under 45 represent only 2.5 percent of all COVID deaths. According to the Heritage Foundation, based on CDC data, people under 25 represent only .2 percent of all COVID fatalities.
The 2018-2019 flu mortality rate for all people ages 18 to 49, a wide range that could include both legal adults and their parents, is 1.8 percent.
My university's rules, if applied to other diseases, would be absurd.
Imagine if masks were mandatory because of the flu–and not just during flu season, but all year round.
We would be required to wear a mask at all times, too, whenever we're outside our homes, even though everyone around us was healthy, has recently tested negative, acquired immunity because they recovered from COVID or were vaccinated.
All of us would think this rule would be ridiculous. So why do we enforce these kinds of regulations among a healthy demographic with a low mortality rate?
I'm not saying COVID doesn't exist, and I'm certainly not denying the science. I know many people who were infected with the virus, and it's something to be taken seriously.
However, considering how draconian the laws are, I've grown very skeptical of the lockdown policies, and I think there are better ways to prevent the virus without suffocating ourselves.
MORE: Journalists claim any large event is a 'super spreader' for COVID
Let us breathe.
If we're walking to the bathroom, alone in a public room, walking solo, among a group of people who have all tested negative: let us free our mouths. It's unlikely we'll pass the virus among others or get infected. For those that do test positive, put them in quarantine.
Other than that, if we test negative and live among those who have no signs of the virus, there's no need for us to wear a mask.
My peers and I are intelligent and should continue to quarantine ourselves if we have symptoms of COVID, just like we should if we experienced flu symptoms. Universities should encourage hygienic behaviors, too.
But we can keep each other safe without depriving ourselves of oxygen and a social life.
MORE: A student's perspective on COVID saliva testing
IMAGES: Mark Breck/Shutterstock; Mt. Holyoke College
Like The College Fix on Facebook / Follow us on Twitter