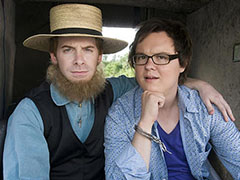 Update on our summer story about the lengths to which male students at Brigham Young University will go to get permission to wear a beard at the school: Church of Jesus Christ of Latter-day Saints schools are allegedly cracking down on even permitted beardos.
The Salt Lake Tribune reports that LDS Business College until recently forced bearded students to wear a lanyard with their beard permit ("They literally stopped, they pointed and they laughed," one ashamed student said of others' reaction), and BYU isn't renewing permits for some students:
Students who had been pushing schools owned by The Church of Jesus Christ of Latter-day Saints to loosen their beard bans worry the recent crackdown is in response to national news media attention after a September protest on BYU's campus.

"If it isn't a reaction, then it's quite a coincidence," said Shane Pittson, the 23-year-old international-relations major who led a BYU "Bike for Beards" rally in September.

But BYU spokeswoman Carri Jenkins counters that the school has not changed its policy. …

Jenkins said she doesn't know why a student who had a pass one year might come up short the next.
BYU is now requiring students to be near-lepers to get permission for a beard:
Garrin Schlink, a 25-year-old history major, went to the school's honor code office to renew his exemption, which is good for one year. He was told he no longer qualified and that only more serious skin conditions would now make the cut.
Or just be sly with your scruff:
Few faculty or staffers enforce the beard prohibition. It's only at the school testing center that students need worry, said Logan Tatham, a 23-year-old math and economics major, who also was turned away from the beard exemption when he went to renew his. He razors all but a "creeper mustache" come exam time.
Like The College Fix on Facebook / Follow us on Twitter
IMAGE: Summit Entertainment