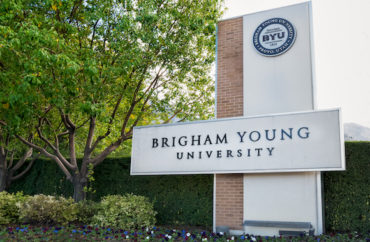 UPDATED
Brigham Young University has stopped offering vocal training to clients seeking to make their voice correspond to their gender identity, but the school says governing bodies will continue to accredit the speech program.
BYU is run by The Church of Jesus Christ of Latter-day Saints, which opposes gender transition.
The church's handbook counsels that "Members and nonmembers who identify as transgender—and their family and friends—should be treated with sensitivity, kindness, compassion, and an abundance of Christlike love," but that "The intended meaning of gender in the family proclamation is biological sex at birth."
"Church leaders counsel against elective medical or surgical intervention for the purpose of attempting to transition to the opposite gender of a person's biological sex at birth ('sex reassignment')," the handbook says. "Leaders advise that taking these actions will be cause for Church membership restrictions."
Further, the church advises again "social transitions," including "changing dress or grooming, or changing a name or pronouns, to present oneself as other than his or her biological sex at birth. Leaders advise that those who socially transition will experience some Church membership restrictions for the duration of this transition."
The school does not list gender transition voice therapy as a service it provides.
This spring, the Council on Academic Accreditation in Audiology and Speech-Language Pathology, an arm of the American Speech-Language-Hearing Association, launched an investigation into whether the school will continue to be accredited. The master's MS education program in speech-language pathology at Brigham Young University is accredited by the CAA.
"ASHA recognizes gender-affirming voice and communication services for transgender and gender diverse populations within the speech-language pathology scope of practice," the association said in a February statement about the BYU decision to halt transgender speech therapy.
"Transgender individuals who attempt to modify their voice without a trained speech-language pathologist, risk permanent damage to their vocal cords; and without appropriate services are an increased risk for related mental health challenges," the statement said.
But BYU says the governing board has told them the school will continue to be accredited.
"In early June, BYU was notified by the Council on Academic Accreditation (CAA) that after considering the complaint and BYU's submitted response, the Council determined that it would not be carrying out an investigation and that BYU's program remains in compliance with CAA's Standards for Accreditation," a BYU spokesman told The College Fix.
Twitter users have taken to posting cartoons objecting to BYU's decision to halt services: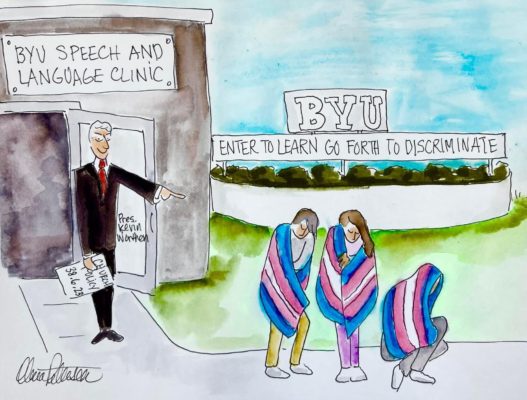 But BYU is defending its decision, saying it has helped students find other providers for speech therapy.
"Although the Department of Communication Disorders is no longer providing gender-affirming voice and communication services, it has made the three students impacted by this change aware of other providers," said spokeswoman Carri Jenkins in a statement to the Salt Lake Tribune. "BYU clinical personnel have offered to assist with the coordination between the students and these providers."
MORE: Following policy change, BYU clarifies: Gay relationships aren't allowed on campus
UPDATE: This story contains a quote from a BYU spokesman clarifying that no investigation would be taking place.
IMAGE: Ken Wolter / Shutterstock.com
Like The College Fix on Facebook / Follow us on Twitter