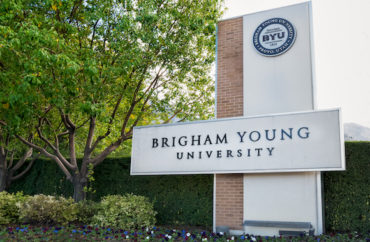 Same-sex activity 'not compatible' with church teaching, says elder
Brigham Young University has clarified that homosexual activity is not permitted on its campus, appearing to reverse itself after an institutional policy change seemingly permitted LGBT relationships at the Provo, Utah universty.
The school's recent revision of its honor code concerning homosexuality, a decision which promulgated from the leadership of the church's educational wing, generated both celebration and pushback from students on campus, with LGBT activists praising the decision and more traditionally minded students protesting it.
The university, owned by the Church of Jesus Christ of Latter Day Saints, has a well-documented history of strict honor code regulations, including bans on facial hair, same sex dating, and premarital sex.
The honor code that held until the middle of last month specifically banned "all forms of physical intimacy that give expression to homosexual feelings." The updated version, released Feb. 19th, removed that statement; now it simply promotes abstinence from sex outside out of the bounds of marriage "between a man and a woman" without codifying a ban on homosexual behavior itself.
Yet shortly after the revision announcement, church authorities and campus officials scrambled to clarify what the new policy meant. Church elder Paul Johnson, the commissioner of the LDS Church Educational System, published a letter earlier this month addressed to all "students, faculty, and staff of the Church Educational System" in which the elder declared that "same sex romantic behavior cannot lead to eternal marriage and is therefore not compatible with the principles of the Honor Code" of the system.
A question-and-answer session with BYU Honor Code Office Director Kevin Utt, posted to the school's website, further clarified this policy, particularly as it applied to Brigham Young. "[A]ny same-sex romantic behavior is a violation of the principles of the Honor Code," he said.
Campus officials did not respond to repeated queries from The College Fix about the controversy surrounding the revisions.
Celebration, pushback following apparent policy change
The initial honor code revision generated both praise and criticism from Brigham Young students. Several openly wondered via social media whether homosexuality was truly permitted at the school. Rumors began to fly that it was considered acceptable, encouraging some students to post pictures and make relationship statuses known.
One student posted that she had reached out to the school and had been told that "as long as you don't have sexual relations unelss married to the opposite sex, it would not fall under honor code."  Another student posted a picture of her and a female friend kissing on campus with the caption: "Featuring my first gay kiss."
Hey just wanted to let people know that we called the HCO and the official words were "living a chaste and virtuous life means as long as you don't have sexual relations unless married to the opposite sex, it would not fall under honor code."

— emma 🌈🤍💖💙 (@emmalee0326) February 19, 2020
It is confirmed. Gay dating is okay, kissing and hand holding from the mouth of an HCO counselor. Featuring my first gay kiss @Kate_Foster14 pic.twitter.com/OK9gBIQVLZ

— Franchesca (@fremlo_) February 19, 2020
In contrast to the joyful reaction from many students, others saw the apparent change as a violation of the university's religious principles. Many commentators responded negatively, bashing homosexuality as "a sin," or saying that it made them "ashamed" to be associated with the school.
Acting on same sex attraction is a sin. I don't understand why every little thing needs to be spelled out in an honor code.

— Matt (@Matthew_7_14) February 21, 2020
An initiative called SaveBYU also sharply criticized the new handbook change. On its website, the group slammed what it said were "cracks in the school's moral integrity."
"Certain staff members, including professors, have openly rebelled against clear and direct teachings of church doctrine. They advocate postmodern gender theory which directly contradicts the eternal plan of progression; as evidenced by Heavenly Father and Mother. They have urged students to rebel against the Quorum of the Twelve Apostles by advocating for same sex marriage and homosexual activity," the group said.
"Enough is enough. It's time to take back God's school," the group wrote on its website.
Upon the release of Johnson's clarifying letter earlier this month, the group tweeted: "WE WON."
Some students were unhappy with the school's apparent flip-flop on the issue. In an article run by campus newspaper The Daily Universe, students voiced their discontent with the seemingly flip-flopped policy revision. Tiauna Lomax, a sociology major from San Diego, claimed that there is "nothing unvirtuous about me kissing a girl.
"It's really sad because we thought we were able to be ourselves, then two weeks later BYU says, 'you can't be yourself'," she said of the policy.
Another student criticized the way the school handled the honor code revision. "The way that they phrased it was kind of dumb. Unless you have the mentality of a lawyer," it was hard to understand the announcement, he said.
MORE: LGBT groups trying to nix BYU's entrance into the Big 12 Conference
MORE: Expelling students in gay relationships could cost BYU law school its accreditation
IMAGE: Ken Wolter / Shutterstock.com
Like The College Fix on Facebook / Follow us on Twitter