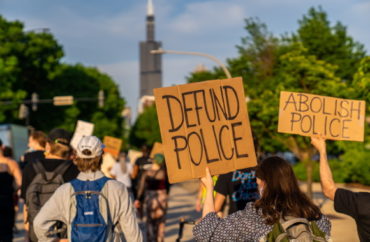 Student leaders voted in early May to defund campus police
California State University Fullerton does not appear to have any plans to implement a police defunding resolution passed by its student government.
"Our ASI passed a resolution to defund the department," Scott Willey, an administrative captain with the campus police department, told The College Fix in a phone interview on June 21. He said that "shortly after" the chancellor for the entire system said he would not defund or disarm or dissolve any of the campus departments. All 23 campuses have police forces.
Chancellor Joseph Castro has previously dismissed demands from various campuses under this control to defund or redirect police funding. He said in February 2021 that he did not "anticipate…any significant decreases in investment in that area."
The Associated Students Incorporated passed the May 4 resolution to divest university funds from the police department, invest in campus safety by hiring more mental health counselors, and ban "all aggressive police tactics, lethal firearms, and excessive use of force during student protests, student events, and any other campus situations."
The student government does not have any actual control over the funds of the police agency on campus, however.
The resolution passed by a vote of 11-0 with six members abstaining, according to the student newspaper, the Daily Titan.
Willey said that he wished the student government leaders had spoken to the police department, because many of their demands for training have been implemented, some for years.
"If they had come and talked to us we could have given them the whole list of what we do," Willey told The Fix. "Because you know reform is not new to us, we're constantly reforming what we do," he said.
Willey said that department has gone through bias, mental health and de-escalation and other professional education demanded by student government.
"Anything new that comes out we welcome that, we're always adapting and changing," Willey said.
Training appears to have paid off
The frequent training and adaptation has paid off for the department, based on the lack of complaints against the department.
Marissa Garza, a spokesperson for the campus police, told The Fix via email that there were five complaints against the UPD in 2019, and all of them were "unfounded."
Garza added that the police department "respect[s] the rights of our community members to express and voice their concerns in a respectful and lawful manner."
One former CSUF student told The College Fix she does not want to see police defunded on campus.
"I would say I would feel more scared and definitely less safe," Aubree Kalinowski said.
"Several years ago, we had a stabbing in an off-campus parking structure that resulted in a young female being injured," she said.
Kalinowski added that all of her interactions with university police have been "positive."
"They would stand out in front of buildings with free coffee and donuts on a regular basis or often say 'good morning/afternoon' or kindly ask students to get off skateboards where they were not allowed," Kalinowski said.
MORE: University of Illinois rejects student vote to defund police department
IMAGE: Untitled Title/Shutterstock.com
Like The College Fix on Facebook / Follow us on Twitter