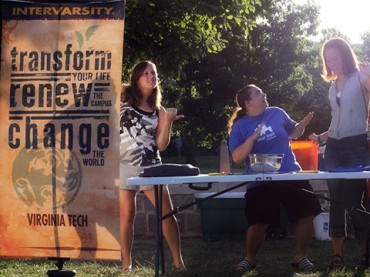 One of the largest Christian ministries for college students has lost "official recognition" from the California State University system because it won't allow non-Christians to take leadership positions in campus chapters.
InterVarsity Christian Fellowship said last week that CSU would not renew the one-year exemption that the incoming chancellor, Timothy White, gave InterVarsity a year ago to decide whether to accept the school's "all comers" antidiscrimination policy.
The new policy requires InterVarsity chapters to "accept all students as potential leaders" to remain officially recognized on campus, whether or not they affirm core Christian doctrines, InterVarsity said. None of the CSU chapters agreed to the new policy.
Universities were empowered to enact all-comers policies following the Christian Legal Society's 2010 Supreme Court loss in a challenge to the Hastings College of the Law's all-comers policy.
CSU is the largest university system in the country with roughly 447,000 students on 23 campuses. InterVarsity has chapters on every campus.
"While we are disappointed, we know God is sovereign," InterVarsity said about CSU's decision, according to Christianity Today. "He holds the decisions of Cal State and the future of our chapters in his hands. We believe he hears our laments and our requests for intervention."
InterVarsity requested prayer for "financial partners to cover the additional costs associated with ministry on campuses where we are no longer able to reserve free meeting space and promote our chapters in the same way we have in the past."
Elizabeth Chapin, public affairs assistant in Chancellor White's office, told The College Fix by email that California law prohibits the university system from "permitting discrimination in either membership or leadership positions on religious or other protected grounds."
CSU can't say how other groups have had to change their leadership policies to comply with antidiscrimination rules, Chapin said, because the university system does not "track centrally" the number of groups that are recognized or unrecognized across its 23 campuses.
But Chapin said there are multiple ways for recognized groups "to insure that the leadership reflects the mission of the group," such as making them pay "position dues, be members in good standing for a minimum period of time, attend a minimum number of meetings" or pass a "relevant skills-based test."
To claim that a person who didn't affirm core Christian doctrines could get a leadership position in a recognized Christian group, under CSU's rules, "is a hypothetical situation that is highly unlikely," Chapin said.
InterVarsity is the only group, faith-based or otherwise, "that is publicly challenging the policy and law," Chapin said. CSU can't do anything about the nondiscrimination exemption for "social fraternities and sororities" because they are exempt under federal law, she added.
"They think our requirement is discriminatory," Greg Jao, InterVarsity campus access coordinator, said in a Web video the group released alongside the CSU announcement. Jao estimated that each InterVarsity chapter at CSU will need $20,000 to pay for rooms on campus to meet or hold events.
"Our position will cost us, but I think the campus access challenge gives students an opportunity to say, 'some might be afraid to pay the price but not this generation of world-changers,'" said Jao in the Web video.
In an interview with Ed Stetzer of LifeWay Research, a church research and consulting firm, Jao made further distinctions. "Loss of recognition means we lose 3 things: free access to rooms (this will cost our chapters $13k-30k/year to reserve room)," Jao wrote. "We also lose access to student activities programs, including the new student fairs where we meet most students. We also lose standing when we engage faculty, students and administrators."
"This could be the tipping point of other university systems moving in this direction, so that's why we are concerned," InterVarsity President Alec Hill told Christianity Today earlier this summer.
The College Fix previously reported that at the CSU system's Chico State University, InterVarsity would no longer qualify for revenue-sharing, accounting for $300 to $600 a year of the club's budget, without official recognition.
InterVarsity Chico State team leader Liz Thrasher Wheatley told the Chico Enterprise-Record it can cost up to $500 per week for meeting space on campus as an unrecognized club. But, she added, "We really feel strongly that we need to have a doctrinal basis for our leaders to adhere to."
Universities including Vanderbilt University, Tufts University and Bowdoin College have already set into place policies similar to CSU.
College Fix contributor Samantha Watkins is a student at Point Loma Nazarene University.
Like The College Fix on Facebook / Follow us on Twitter
IMAGE: Jeff Stanford/Flickr