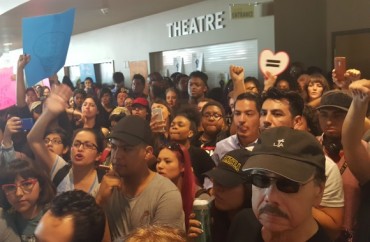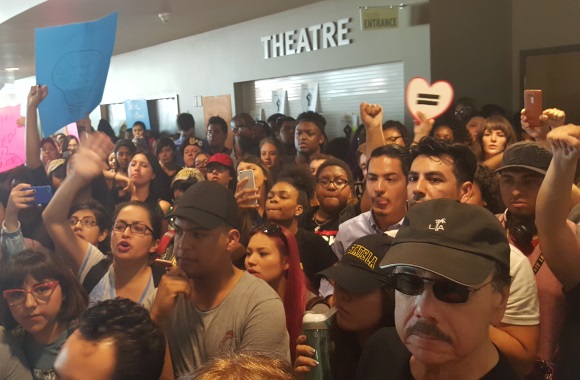 Young America's Foundation on Thursday filed a lawsuit against California State University Los Angeles, accusing the public university of censoring a conservative speaker's guest lecture there by not stopping raucous and aggressive students from blocking the entrances into the theater, effectively shutting down the event.
The lecture did take place after conservative Ben Shapiro managed to enter the theater on the sly, but the February talk took place before a very sparse audience as both entrances — back and front — were blocked by the rowdy student activists who locked arms and refused to let people by, video and eye-witness accounts show.
The lawsuit was filed with help from the conservative Alliance Defending Freedom. It alleges school leaders violated the First Amendment rights of the Young Americans for Freedom student club, which hosted the lecture, titled: "When Diversity Becomes a Problem."
RELATED: VIDEO — Violence erupts as protesters block entrance to conservative's speech at public university
"Students have a Constitutionally protected right to engage in free speech that school administrators don't like," the foundation stated Thursday in a press release. "The cornerstone of higher education is the ability of students to participate in the 'marketplace of ideas' on campus. That marketplace depends on free and vigorous debate and the ability to offer diverse and competing views."
According to the foundation's timeline of events, three days prior to the speech CSULA President William Covino canceled the event because it would be "best for our campus community," but added he would schedule a "more inclusive event" where Shapiro could speak "as part of a group of speakers with differing viewpoints on diversity."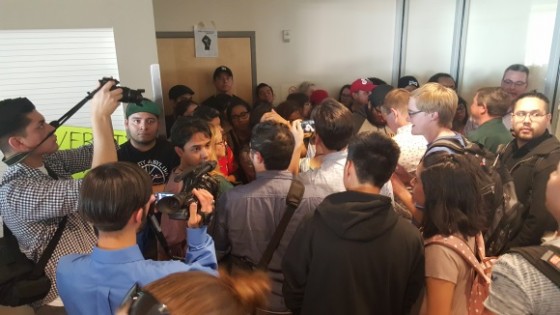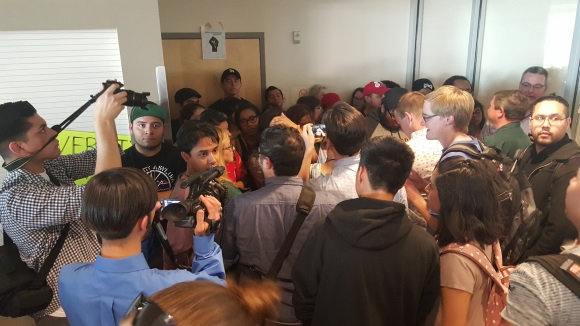 But foundation officials — and Shapiro — publicly refused to agree to what they contended was a decision that amounted to unconstitutional censorship. On the day of the event, Covino allowed the lecture to occur, but said in a statement he strongly disagreed with Shapiro's views.
"Consequently hundreds of protestors flooded the University's Student Union and physically blocked access to the theatre in which Shapiro was scheduled to speak, violating both state and local law," the foundation stated in its press release."[T]his particular event stands out to us as one of the most bizarre and troubling censorship attempts we have ever encountered in our five plus decades of experience.
"Universities are supposed to serve as institutions of learning, not indoctrination," it added. "Colleges should be a place where ideas are freely shared, not silenced through intimidation and threats of violence."
Alliance Defending Freedom Senior Counsel David Hacker added in a statement: "CSULA unilaterally decided what ideas are permissible, in a flagrant violation of the First Amendment, and even allowed an aggressive mob to menace free speech supporters. The defendants' actions violated numerous university policies, as well as state and local laws. By blocking access to the event, the protestors created a serious safety hazard and denied our clients' fundamental rights to free speech, due process, and equal protection of law."
Read the lawsuit here.
RELATED: Scenes from a campus mob showdown: Decidedly not a safe space
Like The College Fix on Facebook / Follow us on Twitter
IMAGES: By The College Fix