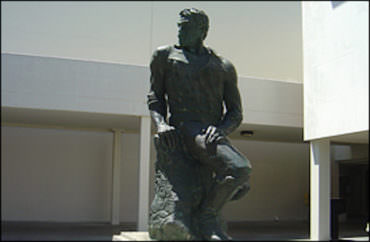 California State University at Long Beach has finally "retired" its long-time mascot, "Prospector Pete," due to "some saying" it represents racism and genocide against Native Americans.
Almost exactly one year ago, The Fix reported on how activists were urging school officials to remove Pete; the university responded by saying it would form a committee to study the issue.
According to the Daily Republic, university president Jane Close Conoley announced the decision to retire Pete on Thursday, stating "We came to know that the 1849 California gold rush was a time in history when the indigenous peoples of California endured subjugation, violence and threats of genocide.
"Today, the spirit of inclusivity is reflected in our students, faculty, staff, alumni and community. Today's Beach is not connected to that era."
The campus has "deep roots" in Native tradition; it was built atop a site considered sacred to the Gabrielino-Tongva Tribe.
"Multiple scholars have cited the California Prospectors, also known as the 49ers, as culpable in violent and genocidal acts against the indigenous people of California," the resolution states. "Prospectors in California perpetuated colonization, white supremacy, racism and exclusion ideals not only against indigenous American communities, but also women, people of color and non-Protestant communities."

Conoley said in an effort to preserve history, the Prospector Pete statue will not be destroyed but will be moved to a new alumni center that is expected to break ground next year.

Whether the university will select a new mascot hasn't been decided, but officials said they will seek input from students, alumni and the community during a campus vision planning event, called Imagine Beach 2030, in November. Students and some faculty have suggested the university avoid modeling a new mascot after a specific person or group to prevent appropriating a culture or offending others on campus in the future.
Craig Stone, director of the university's American Indian Studies Program, said mascots like Pete which invoke "historical trauma" can be alienating.
"[Pete's] been an issue for the last 50 years, and now we're in a moment in time when the culture is receptive to making a change," he said.
MORE: Students protest gold prospector mascot as 'icon of genocide'
MORE: Pepperdine to remove Christopher Columbus statue
Like The College Fix on Facebook / Follow us on Twitter