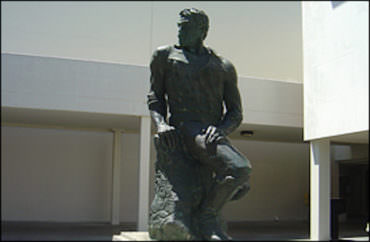 Cal State Long Beach debates removal of mascot due to allegedly offensive connotations
Activists at California State University, Long Beach are urging the university to remove a statue of the school's mascot from campus due to its affiliation with the "49ers," the gold prospectors that came to California in 1849.
Campus leaders are taking the complaints seriously, forming a committee to study the issue.
Somes students and faculty argue that having the mascot of "Prospector Pete" contributes to racism on campus, due to the 49ers' historical role in the killing of California Indians during the gold rush, according to the university's newspaper, The Daily 49er.
"Especially for California Indians, Prospector Pete is an icon of genocide," Craig Stone, the university's American Indian Studies director, told The Daily.
Stone and the school's American Indian student council have been protesting the Prospector Pete statue for three decades.
One student, Rudy Sequoia, told The Daily that Prospector Pete is "offensive" and "based on bad history," claiming: "We shouldn't even be talking about it anymore, we should be discussing what the new mascot will be."
Brian Jersky, the provost of the university, has appointed both Stone and representatives of the Chicano and Latina studies departments to "discuss the future of Prospector Pete."
In addition to debating the future of Prospector Pete, the California university is in the process of redesigning the plaza where its statue resides.
"We are in a process to redesign the plaza where the old sculpture is," Stone told The Fix, "so that we can engage in a dialogue with our history in California as told from many viewpoints as we transition from our monocultural beginnings to the multicultural university that we have become."
"The redesign of this plaza," Stone said, "should allow for all of these perspectives to become a permanent element in this plaza."
Stone also said that having people or groups of people as mascots is an "outdated idea."
The university has multiple mascots, according to both Stone and the school's athletic department.
"CSULB has a few mascots," Stone told The College Fix via email. "The baseball team is known as the Dirtbags…and the 49er has been eclipsed by the use of the letters LB or the term 'the Beach' for many years."
"If you go to our bookstore to purchase a t-shirt with a 49er mascot on it you might not be able to find one," he added.
The athletic department claims that most students prefer "the beach" mascot over the nickname "49ers."
"We discovered our students and alumni embraced the slogan [Go Beach!] as a rallying cry for our student-athletes," Roger Kirk, the assistant director of the department, told The Fix via email.
"The ongoing positive reactions from our alumni and students encourage us to promote 'Beach' or 'The Beach' as our first choice," Kirk said.
MORE: Ceding to demands, Pepperdine will remove Christopher Columbus statue
MORE: Catholic K-12 school ditches statues of Jesus, Mary in the name of 'inclusion'
IMAGE: CSULB screenshot
Like The College Fix on Facebook / Follow us on Twitter