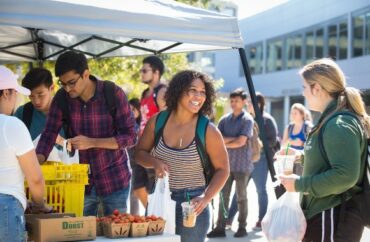 The state allocated more than $100 million in 2021-22 providing community college students with 'basic needs'
California colleges have created "basic needs" centers with tens of millions of dollars in state funding to provide students in need with food, shelter and other necessities.
Mario Flores, director of student affairs and basic needs at Hartnell College, a community college in Salinas, Calif., explained his program in an email to The College Fix.
"It is because of my own personal experiences and passion for higher education that I am able to empathize, connect, and continue advocating for more basic need resources within our district and state," Flores, an alumnus of Hartnell, told The Fix. 
Flores shared some accomplishments of Hartnell's Office of Basic Needs, such as expanding their food pantry distribution to serve an average of 750 students per month. The college also created a "basic needs emergency" fund for students and issued gift cards to help them pay for gas, groceries, and public transportation.
"Food insecurity" has been the top concern for Hartnell students, Flores told The Fix.
"When food insecurity is present in a student's life, it affects their wellbeing, which in turn threatens student development, consequently affecting their academics," Flores said.
California allocated $100 million in 2021-22 for community colleges for 'basic needs centers' on campuses, with an additional $30 million provided annually for the program, according to the state budget.
One of the first schools to create a basic needs center, UC Irvine, hired Andrea Mora as the "director of basic needs" in 2019 after her supervisor "had seen the need for a new center, a larger staff and a director to oversee all aspects of helping students meet their basic needs," according to Inside Higher Ed.
College administrators "homed in" on providing basic needs during the pandemic, according to the news outlet. "Some [students] were going without enough food to eat; others were sleeping in their cars."
"Many lacked stable or affordable housing, while others had no internet service at home," the outlet stated.
"We understand that meeting the basic needs of our students greatly impacts their mental and physical health, academic performance, work productivity, and holistic success," according to UC Irvine's basic needs mission statement.
Services advertised on the website of UC Irvine's basic needs center are wide-ranging and include emergency meal swipes, an economic crisis response bank, financial wellness consultants and a diaper bank.
The Fix reached out to political science Professor Benjamin Ginsberg at Johns Hopkins University, a critic of administrative bloat and author of "The Fall of the Faculty: The Rise of the All-Administrative University and Why It Matters," to ask about possible downsides to funding basic needs on college campuses. Ginsberg did not respond to a request for comment.
MORE: Protesters demand free tuition, dining at U. California campuses
IMAGE: California State University, Sacramento
Like The College Fix on Facebook / Follow us on Twitter