A 'transterritorial attack on UC incorporated'
Last Thursday, several University of California campuses saw student protesters demand that all students get free tuition and dining hall food.
According to the Daily Bruin, the protesters at UCLA blocked students at De Neve Dining Hall from swiping their meal cards and allowed everyone to enter regardless of meal status.
An anonymous protest leader told the Bruin the activists are part of a "COLA" group which encompasses those affiliated with cost of living adjustment demands, abolition of campus police, and anti-capitalism.
The Twitter account "Cops Off Campus UC" posted about the demonstrations on December 7 saying "Students should not be debt burdened, rent burdened or food insecure." The post included images stating "Liberated Dining Hall — Fuck the UC" (pictured) and "De Neve Dining Commons is Liberated!!"
A Twitter post about protesters' "transterritorial attack on UC incorporated" from the "Liberated Dining Halls of so-called Santa Cruz" said that "The colonial capitalist will never win. Union sell-outs and scabs will never win."
"The civilizational crisis that we live in […] opens the door to the construction of a challenge to this false normality" via the "practice of refusal, of abnormality […] the values of direct democracy, mutual aid, self-management, gender equity [and] respect for Mother Earth," the post continues.
MORE: Professors, media denounce 'unpaid' UCLA teaching position, university backtracks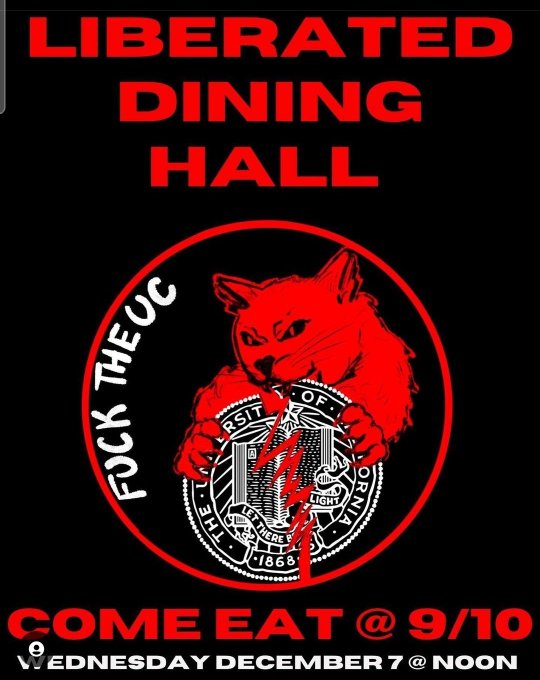 At UCLA's De Neve, COLA participants held signs reading "smiles not swipes" and "everything for everyone." They also handed out fliers noting that all students could "eat for free at De Neve from 11 a.m. to 2 p.m."
The student leader said the group hopes to abolish UC administrative practices that create poverty and hunger.

"They're (the UC) paying workers horribly. They're making us overpay for food. (We're) overpaying for housing," said the student. "And so what we were doing for today, we're planning on taking it back to the UC and saying, 'Students are hungry. We have basic needs, and (we) should be able to eat for free.'"

The organizers were protesting independently of the United Auto Workers strike that has been occurring across the UC since Nov. 14, although many of the organizers are union members and stand in solidarity with those striking, the student added.

Grace Harris, a second-year international development studies student, said she came to De Neve dining hall after seeing a message inviting students to dine for free in a Student Labor Advocacy Project group chat. However, she was not allowed to enter the dining hall due to staff blocking the entrance, she said.
Indeed, staff at De Neve prevented students from entering for "free" while the protest was going on. In a statement, UCLA Dining said it "respects the rights of individuals to protest, and protesters were not prevented from expressing their voices."
MORE: UCLA professor retires due to 'the woke takeover of higher education'
IMAGES: Cops Off Campus / Twitter screencaps
Like The College Fix on Facebook / Follow us on Twitter