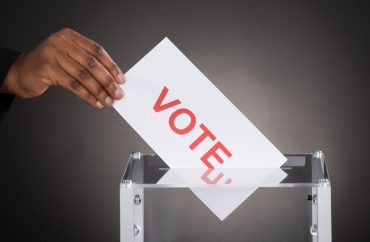 The proposition, if approved, would hurt minorities in the higher education realm, critics argue
Proposition 16 is a proposed amendment to the California Constitution that seeks to restore the government's right to discriminate based on race, sex and ethnicity.
If approved, it would strike down Proposition 209, which 54 percent of Golden State voters approved as an amendment to the California Constitution in 1996 to prohibit considering race, sex or ethnicity in public employment, public contracting or public education.
Since its adoption, Proposition 209 has faced harsh scrutiny.
U.S. Rep. Karen Bass, D-California, argues "Proposition 209, deceptively titled the California Civil Rights Initiative, passed by referendum in 1996 amidst an orchestrated campaign of dog-whistle politics attacking all attempts to level the playing field for women and people of color."
When Assemblymember Shirley Weber, D-San Diego, introduced Proposition 16 in the most recent California legislative session, the proposal easily sailed through the Democratic-controlled Sacramento legislature to land a spot on the ballot.
"California's regressive ban on equal opportunity programs, such as affirmative action, denies women and people of color a level playing field in the workplace and in education," Weber states.
"As we look around the world, we see there is an urgent cry — an urgent cry for change. After 25 years of quantitative and qualitative data, we see that race-neutral solutions cannot fix problems steeped in race," she argues.
Vice Presidential candidate Kamala Harris, D-California, supports Proposition 16, as do corporations such as Twitter, Facebook, Uber and Airbnb.
But the effort has staunch opponents, too, especially when it comes to its impact on higher education.
A recent staff editorial in The Wall Street Journal pointed out the measure, if approved, could harm minority students.
"Contrary to what Prop. 16 supporters would have you believe, 41% of the 2020 class of admitted freshmen students are black or Chicano/Latino across the University of California system. Chicanos and Latinos represent a plurality at 36%, which is more than the 35% who are Asian-American and the only 21% who are white," the Journal reported.
"The non-discrimination language in the California constitution has ensured greater academic success for these minority students. As a result of a better match between under-represented minority students and the UC campus they attend, minority performance has increased."
The Center for Equal Opportunity, one of the leading advocates urging voters to reject Proposition 16, came to the same conclusion in a new report, which found that the implications of passing Proposition 16 for higher education will be severe.
"If Proposition 16 passes, we can expect California colleges and universities not only to discriminate against better-qualified white and Asian applicants to achieve their desired diversity numbers but also to disadvantage black and Hispanic students who are admitted and may struggle because they lack the necessary preparation," the report states.
The center is a nonprofit research and educational organization that studies issues related to civil rights, bilingual education, and immigration and assimilation nationwide.
The report used findings from a wide swath of various research to determine the effects of racial preferences in higher education admissions.
"Proposition 16 would bring back racial preferences to the detriment of not just those students that would be passed over for admission but the intended beneficiaries as well," Linda Chavez, founder and chair of the center, told The College Fix in an interview.
"Admitting students whose qualifications don't match their peers puts them at a tremendous disadvantage in competing and graduating."
Chavez said affirmative action has unintended consequences.
"Those who want to see more black and Hispanic students thrive should reject racial preferences, which simply set up students for higher rates of failure. A student who completes a 4-year degree at a lower-tier school is better off than one who fails to earn a degree from a more prestigious institution. And unfortunately, our study shows admitting students whose grades and test scores lag those of their peers are less likely to graduate," Chavez said.
According to an October 26 poll from the UC Berkeley Institute of Government Studies, support for Proposition 16 among likely voters is sitting at 38 percent while opposition is at 49 percent.
A No on Prop. 16 group reports that many of its signs have been vandalized as Election Day draws near.
The more yard signs #YesOn16 vandalizes, the more we will put up!

And we are not only putting #NoOnProp16 yard signs on front lawns, street sides, corners, we have already put our signs in the hears of thousands of #Californians!

You cannot pull the signs away from our hears! pic.twitter.com/e16Vf2nJoh

— Equal Rights Californians – No On #Prop16 (@ECalifornians) October 28, 2020
California voters will have the final say on whether they want to restore public institutions' right to consider racial preferences when they head to the polls November 3.
MORE: UC study claims affirmative action ban hurt minorities, but won't release data to support findings
IMAGE: Andrey Popov / Shutterstock
Like The College Fix on Facebook / Follow us on Twitter