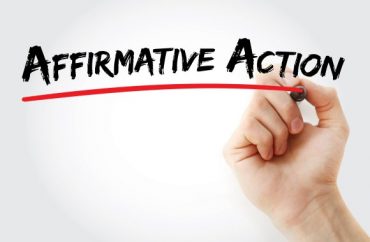 UCLA law professor criticizes study as inaccurate, accuses UC system of playing politics
A recent University of California-backed study found that minorities have been hurt by the state's 24-year-old ban on affirmative action in college admissions, but officials will not release the data that underpins the findings.
The decision to keep the data "secret" means the study's results cannot be trusted, argues UCLA Professor Richard Sander, a critic of affirmative action. What's more, the study's results are "demonstrably wrong," the professor said.
At issue is an unpublished study by Zachary Bleemer, a graduate student at UC Berkeley, which claims to show that Proposition 209 hurt minority students' graduation rates, completion of STEM degrees, and longterm salary earnings.
Proposition 209, also known as the California Civil Rights Initiative, was approved by voters in 1996. It prohibits race, sex or ethnicity preferences in public employment and public education.
The state's voters now have the option to repeal the law through a new proposition, Prop. 16, to be decided on this November's ballot.
Proponents of the measure argue it would "level the playing field" while opponents say it will make discrimination legal again. As the debate rages on, the UC study that purported to show that Prop. 209 hurt minorities made headlines in August.
Bleemer's study found that in addition to hurting underrepresented minorities' attraction and retention at UC schools and in STEM fields, their wages declined.
"These findings are inconsistent with the university 'Mismatch Hypothesis' and provide the first causal evidence that banning affirmative action exacerbates socioeconomic inequities," the study states.
The mismatch hypothesis argues that students are academically harmed when they attend universities where their peers are more academically adept, and that such students fare far better at middle-tier schools more suited with their aptitudes.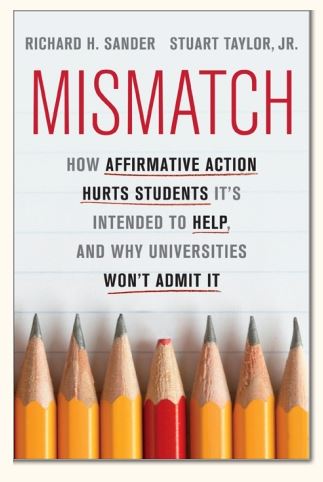 Sander, co-author of the 2012 book "Mismatch: How Affirmative Action Hurts Students It's Intended to Help, and Why Universities Won't Admit It," has become a vocal critic of Bleemer's findings.
While Sanders acknowledges that underrepresented minority student enrollment at UC campuses dropped in the years after Prop. 209 passed, in 1999 the numbers recovered, and in 2000 underrepresented minority enrollment significantly exceeded 1997 levels.
After that, underrepresented minority enrollment "increased at an accelerating rate," Sander argued in a rebuttal to Bleemer's study, citing data published by the University of California.
"At the most basic level, then, Zachary Bleemer has his facts wrong. They are flatly contradicted by the university's own official statistics. Moreover, much of Bleemer's analysis is premised on this incorrect number: he builds an elaborate story about the fate of the Blacks and Hispanics who were unable to attend UC."
"But since the number of [underrepresented minorities] at the university was in fact higher, not lower, within a couple of years of Prop. 209's implementation, the premise of Bleemer's story is wrong," Sander stated.
Sander also takes on the STEM degree claim, again using public UC data. He points out that underrepresented minorities' STEM graduates data show "essentially a tripling in numbers from the pre-Prop 209 classes of 2000-02 to 2014."
"The percentage of [underrepresented minorities'] degrees at UC that were in STEM fields rose by nearly a third, at a time when the national trend in minority STEM degrees was flat," he wrote.
Asked to respond to Sander's critique, Bleemer declined to comment to The College Fix.
"I have chosen to not publicly comment on Richard Sander's response to my study," he said via email. As part of Bleemer's study, he published detailed data in an appendix.
But Sander argues there's unpublished data.
"There is something even more troubling about the Bleemer paper and the way it came about. Bleemer is using 'secret' data, which he obtained from the Office of the President at the University of California and is pledged not to share with anyone else. This means that the vast majority of Bleemer's results cannot be replicated by any other academic," Sander stated.
In an email to The College Fix, Sander explained further:
"I asked UCOP for detailed admissions and outcome data in August 2017; the university refused to release data to me either as a public record or under a confidentiality agreement. It apparently *then* arranged for Bleemer to access the data I was seeking. I and others sued UC in November 2018 for violating the Public Records Act; that suit is coming to trial later this fall."
Asked for comment, a University of California system statement to The College Fix stated that federal and state laws prevent officials "from publicly disclosing the highly personal and confidential data sought by Prof. Sander."
"The data used in the recent institutional research analysis on the impacts of Prop. 209 by Zachary Bleemer was conducted on behalf of the University of California, and therefore Mr. Bleemer's access to the data was not a public disclosure. His access to the data was during the course of his employment for UC's Institutional Research and Academic Planning office, which continues to provide accurate and reliable information about the University," the statement read.
"As a public institution, UC also regularly publishes a robust collection of data that is publicly available on the UC Information Center, including information on race/ethnicity at UC. Beyond the wealth of information currently made available there, the University carefully considers all requests under the California Public Records Act (CPRA). Please note that CPRA does not require organizations to create new records, which is what Prof. Sander seeks in a pending lawsuit regarding a separate dataset. That dataset does not exist and would take UC staff at least months to compile."
Sander, for his part, argues that the UC system is playing politics because it wants Prop. 209 overturned.
"It's not hard to connect the dots and see that the university is using its data as a political weapon, to be withheld from objective scholars who might report 'inconvenient truths,' and to be shared with graduate students willing to follow the party line," Sander wrote in his rebuttal.
"The story that should be reported about the Bleemer study is not that he has shown the Prop 209 harmed [underrepresented minorities], but that top administrators at the University of California are going to great lengths to distort academic discourse and release unvetted, not-credible research based on 'secret' data, all for improper political purposes."
In June, the UC Board of Regents voted unanimously to endorse the repeal of Prop. 209.
MORE: UCLA law prof: Affirmative action hurts more minority students than it helps
IMAGE: Shutterstock
Like The College Fix on Facebook / Follow us on Twitter