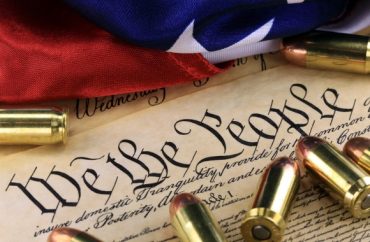 Flag read 'Don't Tread on Me' and '2nd Amendment since 1789'
Students at Orange Coast College were told to take down a pro-Second Amendment banner. Now the Foundation for Individual Rights in Education is getting involved, requesting an explanation from the public comment for why the students' rights were violated.
They were promoting the campus chapter of Young Americans for Freedom with a flag reading "Don't Tread on Me" and "2nd Amendment since 1789," with the image of two firearms crossed over each other.
Townhall.com reports why administrators asked the students to take the flag down:
According to the two university officials, the flag violated school policy AP 3530, which prohibits "firearms, knives, explosives or other dangerous objects" and any "facsimile of a firearm." University officials said the flag fell under the "facsimile of a firearm" aspect of the school policy.
The students disagreed with the decision, claiming it was "completely outrageous that the college would censor our freedom of expression to display the image of a firearm," and stating that they had a "constitutional right" to promote their support of the Second Amendment.
Civil rights watchdog FIRE got involved in the case yesterday, writing a letter to OCC's interim president requesting an explanation for why the students' First Amendment rights were violated.
The letter took issue with the apparent justification for taking down the banner.
"The policy reportedly invoked by OCC's administrators does not reach the display of images of firearms, but instead regulates the possession of dangerous objects," the letter reads. It also argued that displays of images of firearms are constitutionally protected speech.
"The First Amendment protects displays of flags and banners, including those whose display offends others, whether that offense arises from the content of the flag or the manner of its exhibition," it pointed out.
Read the Townhall report and FIRE post.
MORE: Gay College Republicans president faces constant discrimination
IMAGE: Shutterstock
Like The College Fix on Facebook / Follow us on Twitter