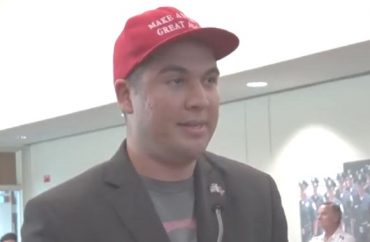 Vincent Wetzel, president of the Orange Coast College Republicans, recently stood before the leaders of his college and declared that as a homosexual Hispanic from a low-income household, he faces discrimination on campus — for being a Republican.
"Republicans are the most targeted minority on our campus, and it is the duty of this board to defend minority students," he told the Orange Coast College board of trustees earlier this month.
Orange Coast College is the center of a nationwide dispute over a professor there, Olga Cox, who infamously declared to her human sexuality class after the election last year that "we have been assaulted, it's an act of terrorism," comments recorded and posted on YouTube. Wetzel was at the board meeting to protest the fact that Cox won teacher of the year.
In an interview with The College Fix, the 23-year-old Wetzel said he faces pushback from the very LGBTQ community he belongs to: questions, mocking, confusion. While he said he has not been personally targeted for attack, he feels judged. Some professors ask what being a "gay Republican" is all about. Making matters worse, the campus Pride Club is led by Cox.
Moreover, as a Hispanic, Wetzel said his conservative beliefs place him in the minority among those with similar ethnic backgrounds. Wetzel has previously visited the multicultural center when it hosted an "expression sessions" – an event where students could openly and safely express their feelings. He said fellow attendees were well-meaning people but "most were full of identity politics." He said he went to engage in meaningful conversation but instead the event turned into "post-election stress therapy."
Although he hasn't personally received death threats, Wetzel said he is still concerned for the safety of conservative students on campus, given the vicious targeting that other members of his club have previously faced. The former president of the campus Republicans was sent death threats, and vandalism that was recently spread across campus denounced College Republicans and called them fascists and other names. After meeting with a campus security guard, they were advised not to walk alone.
Despite the pushback he and his conservative peers face, Wetzel said they continue to fight for causes they believe in, such as free speech.
"As Republicans, it is offensive to us that the radical left has infringed on the free speech rights of peaceful, law-abiding American students," he told The Fix. "Yes we sure are going to fight that damn free speech zone."
MORE: Conservative student targeted with graffiti, rape and death threats
Like The College Fix on Facebook / Follow us on Twitter