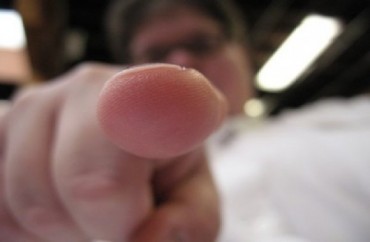 Jade Armenio, a student at Woodside High School in California, was physically assaulted because … she supported Donald Trump for president.
Jade said she was approached by a student who told her that "you support Trump, you hate Mexicans."
According to KRON-4 Armenio responded "I said no I do not and she said I wanna do it and I said you want to do what? And she threw me to the floor, pulled out my hair, ripped out my earrings, kicked me inside of the head, kicked me in the stomach, punched me in the nose."
Jade's mother said her daughter's "got Mexican friends […] she's got black friends."
"We're not racist and have never been racist and nobody, nobody should beat somebody up because of that. So if that's her reasoning, I'm appalled."
Jade believes she was targeted because she had put up a screen capture on Instagram projecting the now-president-elect's victory. She says her attacker may have misconstrued one of her comments on that post.
From the article:
She says her friend slothy_loppy commented "Hell yeah," then another comment from him that says, "F Mexicans."

Jade responds "One of the few things we can agree on slothy_ loppy."

Jade says that response was about his first commenting supporting her original post showing Trump winning.
Jade's parents say they're considering switching schools.

They say they don't feel Jade is safe there.

Students and staff from Woodside High School were protesting Thursday after Jade was attacked for supporting President-elect Donald Trump.

One student said they were protesting actions they saw as racially insensitive and unjust.

The protest was peaceful.

The school district's superintendent, James Lianides, issued the following statement:

"Woodside staff responded immediately to the incident. The incident was investigated in conjunction with law enforcement and appropriate disciplinary action has been taken."
A follow up report notes that many students wanted Armenio punished along with her attacker because of the (allegedly) misunderstood Instagram comment.
MORE: Principal cribs his Trump response message from 'Huffington Post'
MORE: Gay college student says he'll go back in the closet because Trump won
MORE: Student loses it after confrontation with Trump voter: 'You voted for a rapist!'
Like The College Fix on Facebook / Follow us on Twitter
IMAGES: a2gemma/Flickr, KRON video screencap