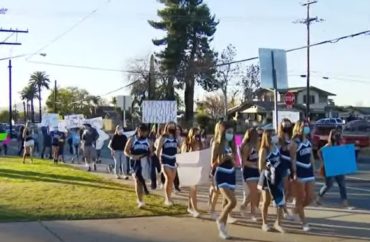 Two teams face investigation for playing this weekend
Student athletes, parents and coaches held a number of rallies this weekend across California, urging Governor Gavin Newsom to let them return to the field.
"Right now, state guidelines only allow young athletes to train and condition, with specific rules for each sport, but no competition play," ABC 7 reported.
The rallies were organized with the help of "Let Them Play CA," a Facebook group that has been advocating for interscholastic competition.
Coaches have been actively monitoring the situation and have said there are negative effects to the limits on competition.
"I've had parents tell me that my kids depressed, he's just so depressed he can't hang out with his friends. So for me, it's that whole emotional side – like these kids have lost a whole year of friendship, of learning life lessons through sports," high school baseball coach Raymond Lopez told ABC.
The news organization said the plan is to have more than 140 rallies across California.
While the groups rallied, at least two schools went ahead with competition and could face an investigation over it.
The Orange County Register reported:
The Capistrano Valley Christian and Calvary Chapel of Santa Ana high school football teams played a game Saturday, Jan. 16, that might have violated CIF [California Interscholastic Federation] and Southern Section rules as well as state health orders that are in place because of the pandemic.
The California Interscholastic Federation is the nonprofit that oversees high school sports in the state.
Thom Simmons, a commissioner for the group, said CIF was looking into it, according to the Register. "However, the decision to allow athletic teams to resume is an individual school/school district/private school decision, following the guidelines developed by the California Department of Public Health and local health authorities."
Simmons statement highlights come of the apparent confusion surrounding the rules.
"The California Department of Public Health issued guidelines last month that said high school and youth sports competitions are not allowed until Jan. 25, at the earliest," the Register reported. However, the two Christian private schools did not have referees at the game and did not use standard kick-offs.
Calvary's coach, Pat McInally, described it as a "glorified scrimmage."
Fired up to be 1-0 but more proud of the adversity these young men have pushed through and the challenge they have accepted. pic.twitter.com/nZKl92OuNN

— Eric Preszler (@EricPreszler) January 17, 2021
"Fired up to be 1-0 but more proud of the adversity these young men have pushed through and the challenge they have accepted," Eriz Preszler, Capistrano's head coach, tweeted.
MORE: Illinois high school athletes protest onerous COVID sports ban
IMAGE: CBS 8 San Diego/YouTube
Like The College Fix on Facebook / Follow us on Twitter