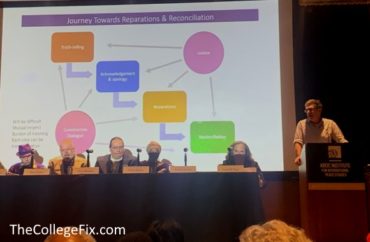 'Everything at this school is extremely white'
'Under the auspices of religion, they do harm. They do great harm'
A forum Wednesday at the University of Notre Dame featured panelists who urged the university to pay reparations to blacks and Native Americans.
Panelist Savanna Morgan, a senior at Notre Dame, said black and indigenous communities have a "right" to pursue reparations at Notre Dame. These reparations are "indeed monetary," she said, adding they are "equally psychological and symbolic."
Morgan said one of the "appropriate remedies" for Notre Dame is "taking our $13.8 billion endowment out of this one mile radius and sharing this wealth with the people Notre Dame has historically robbed of their right to a safe and secure life."
"We must acknowledge how white institutions contribute to black disadvantage and commit to the appropriate remedies," she said.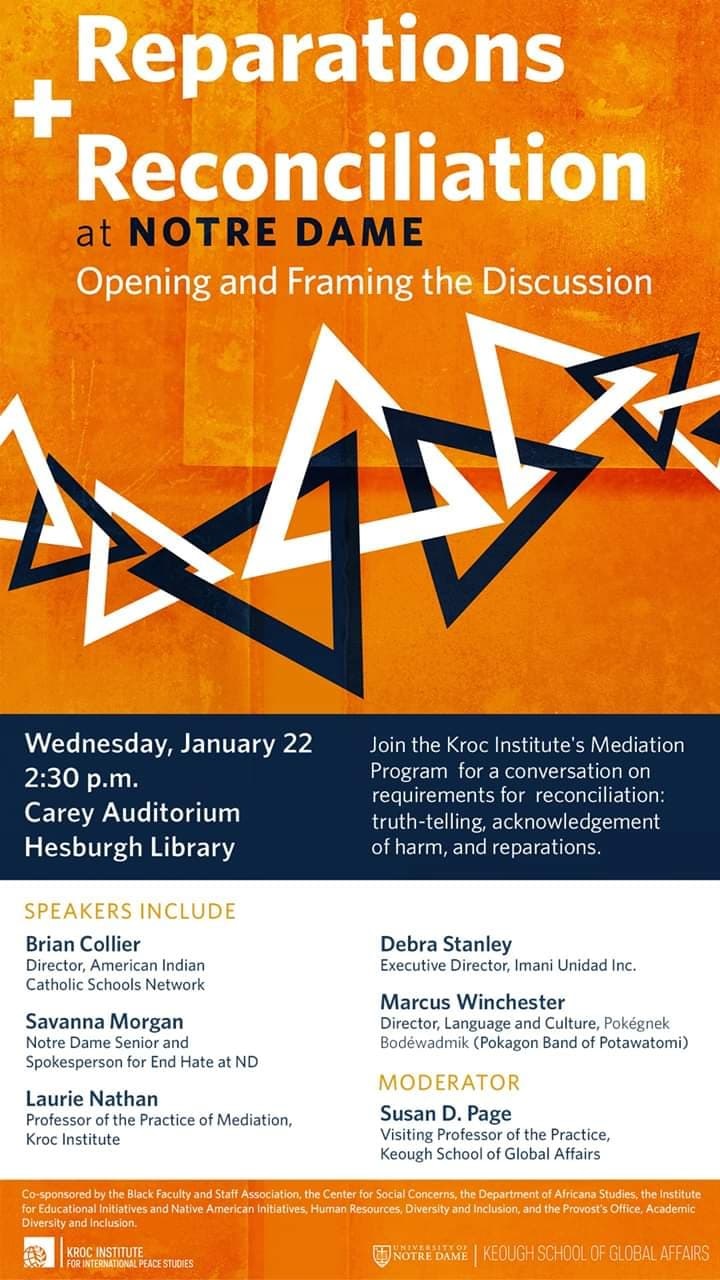 The forum, titled "Reparations and Reconciliation at Notre Dame: Opening and Framing the Discussion," was co-sponsored by the Kroc Institute for Peace Studies, the Provost Office, Human Resources, and the Department of Africana Studies.
Other forms of reparations proposed by panel members included hiring a chief diversity officer, providing free tuition to Pokagon students, increasing diversity and inclusion programming, replacing white professors teaching Native American studies with native professors, flying the Pokagon flag at all Notre Dame events, and a "mandated" diverse curriculum.
MORE: Georgetown launches $400K annual slavery reparations fund
MORE: Notre Dame students demand to read fewer white male scholars
Laurie Nathan, professor of the Practice of Mediation at Notre Dame, proffered a four-step "journey" of reparations consisting of "truth-telling," "acknowledgement and apology," "reparations," and "reconciliation."
According to Nathan, "those who are harmed or their descendants" should "self-identify" their needs for reparations, whether that is material, symbolic, religious, or spiritual. He said reparations can also consist of structural change.
Morgan said it was "built into American's moral imagination" from the time of the founding fathers "to violate the moral law and commit crimes against fellow members of humanity in pursuit of capitalistic gains."
"And for every dollar earned, the moral debts have accumulated. The debt is accruing exponentially day by day, and it is all around us," she said.
"Everything at this school is extremely white," Morgan continued. "We fail to address preferential treatment of white people and white things…black and brown voices are not equally prioritized in the classroom or the dorm."
Morgan said Notre Dame is "not interested" in reparations "because it is black and indigenous people who are making these claims."
Morgan, a film, television and theater major, received a standing ovation and cheers from the audience. One member of the audience told her: "You broke my heart and brought tears to my eyes." The audience clapped when the moderator spoke her name.
Others echoed the view that Notre Dame does not value minorities.
"They still think of us as a resource — animals," said panelist Gary Morseau, a member of the Pokagon Band of Potawatomi.
"This university, time and time again, has shown us that they personally do not care about black and brown people, even the ones who specifically go here," said senior Angelle Henderson, a member of the audience.
Henderson also said a few people present at the forum had approached the university to say people had called them racial slurs and committed microaggressions against them, but the university had done nothing "because obviously we're not a part of their priorities."
The Notre Dame administration did not respond to The College Fix for comment.
Panelist Debra Stanley, executive director of Imani Unidad Inc., said Notre Dame had caused harm through Christianity: "That's some of how I see Notre Dame: under the auspices of religion, they do harm. They do great harm."
"There was a reason there was a blond-haired, blue-eyed Jesus Christ in the church looking down on the people," she said.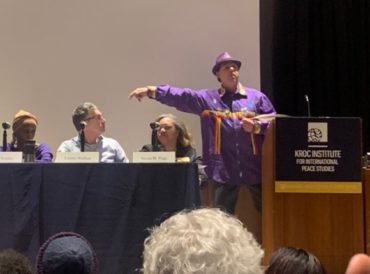 Panelist Jefferson Ballew, the Pokagon Band of Potawatomi cultural specialist, who opened the panel with a Native American prayer, said "The Church…made it okay to steal the soul of us because we didn't believe in your God."
A member of the audience said panelists Ballew and Stanley had caused her to question "how any person of color can practice Christianity…when it has been this tool of hatred, of violence, of death for so many of us."
Susan Page, a visiting professor of the practice at Notre Dame and the former ambassador to South Sudan, told the audience she had "gone out of [her] way" to ensure her syllabus only contains readings by "people of Africa or African Americans."
MORE: Foreign prime minister demands slavery reparations from Harvard
Like The College Fix on Facebook / Follow us on Twitter