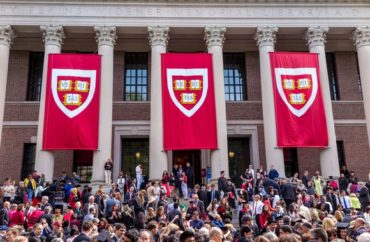 UPDATED
Local and federal law enforcement are involved
Some students, faculty and staff that identify as LGBT reported receiving emails with messages critical of homosexuality.
"Cambridge is MAGA Country," the emails reportedly stated, according to The Harvard Crimson.
The line that ended the emails is reminiscent of what Jussie Smollett's (fake) attackers reportedly screamed in Chicago one day before putting a noose around him and pouring chemicals on him. "This is MAGA country" his attackers, who turned out to be Nigerian brothers he paid for the hate crime hoax, yelled early one chilly January 2019 morning.
"MAGA" refers to Donald Trump's campaign promise to "Make America Great Again."
"The emails target LGBTQ+ recipients with anti-gay tropes of 'brainwashing our children' and spreading the monkeypox virus, according to a copy of one of the messages obtained by The Crimson," the paper reported. It did not publish any photos of the emails. "It is unclear how many affiliates received the emails or if they all contained the same language," the campus newspaper reported.
"The emails threatened physical harm against recipients, telling them to 'watch your back,'" the paper reported. "The messages, which purported to be from a group called 'Harvard Straight Pride,' were sent via an encrypted email service."
The Crimson reported that local and federal law enforcement are looking into the emails.
President Lawrence Bacow announced that the Harvard University Police Department and IT team were coordinating the investigation with federal law enforcement.
"Rest assured that if we can identify those responsible, we will pursue their prosecution to the fullest extent of the law," Bacow wrote, according to The Crimson.
This is not the first alleged hate crime to happen at Harvard.
Former student government president Michael Cheng alleged in February that someone left signs on his dorm room calling him a "ch*nk."
Police closed the investigation in March without identifying any suspects.
MORE: The rise of campus hate crime hoaxes
Editor's note: The headline was updated to say the affiliates 'say they' received messages.
IMAGE: F11 photo/Shutterstock.com
Like The College Fix on Facebook / Follow us on Twitter