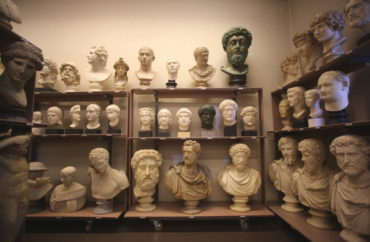 Cambridge University's Archaeological Museum has announced plans to install signs that seek to explain the whiteness of its statues, according to numerous reports.
The move is billed as an attempt to put viewers and students at ease regarding the numerous Roman and Greek sculptures in the museum and classrooms.
Apparently all the white statues give a "misleading impression" that there was no diversity in the ancient world.
The UK Express reports:
The Classics Faculty has insisted it will "turn the problem into an opportunity" through drawing attention to the diversity of those figured in the casts.

It will do this by looking at the ways in which colour has been lost and can be restored, and to the "role of classical sculpture in the history of racism."

The faculty has said the new information panels around the "whiteness" of plaster cast sculptures are due to go on display later this year.
Criticism of the decision includes one academic telling the Daily Telegraph "You might just about understand this coming from a student but the idea that this has been approved by the faculty is as terrifying as it is comical."
The whiteness signs come on the heels of an allegation that Cambridge University's Classics Department is wrought with systemic racism. The American Thinker notes:
The classics faculty responded with a statement of plans to address the accusations of racism. It will erect signs to explain the whiteness of the plaster casts. Faculty will be encouraged to include content warnings in course materials, lectures and readings. Tutors will receive training on how to discuss sensitive issues, even if they are uncomfortable. The present proposal is that all members of the classics faculty should be given implicit bias training every three years, and their teaching should be monitored.
Read more at the UK Express article, the Daily Telegraph article, and the American Thinker column.
MORE: Brown University students want Roman statues removed because they promote 'white supremacy'
IMAGE: Contera / Shutterstock
Like The College Fix on Facebook / Follow us on Twitter