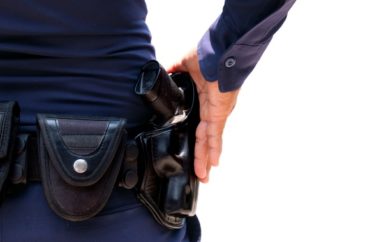 There is ample reason to allow guns on campus, if academics will permit it
College professors and administrators do not like guns. In one way this is really not all that surprising. Most academic employees lean left, to say the least, and the further left you lean the more likely it is you will be anti-gun; this goes double where the question of "campus carry" is concerned. This is, to say the least, disappointing, as there are very good reasons to allow students, faculty and staff to carry guns on campus. Unfortunately, the campus carry debate often veers out of the rational and into the comically illogical.
Consider, for example, Yale University's recent decision to censor a Puritan musket on a piece of stone artwork. The art depicted a realistic historical scenario—a battle between a settler and a Native American—but presumably the 17th-century firearm was too scandalous to leave uncovered.
Or consider the anti-campus-carry protest at the University of Texas-Austin last year, where students demonstrated their opposition to the pro-gun proposal by brandishing…rubber penises. Do you see a connection between guns and synthetic human genitalia? Maybe there is one, though we are afraid to consider what it might be.
A while ago one professor hypothesized that students who were allowed to carry guns on campus would be able to force their professors into giving them As. Maybe this is a stretch, but it seems like you could just call the police on such students and have them sent to prison—call us crazy, but that just might work.
These are arguably representative examples of the gun sentiments that percolate on campuses across the country. And it is a bizarre thing, chiefly because the common contention of anti-campus carry partisans—that guns on campus will inevitably lead to more violence on campus—is not supported by the facts. Indeed, one student activist group points out that, out of dozens of campuses that have legalized concealed carry over the past decade or so, "not one of these campuses has seen a single resulting act of violence (including threats) or a single resulting suicide attempt."
Given the facts of the matter, the only argument one can make against campus concealed carry is an emotional one: some people just do not like guns and do not want to be around them. By itself this is not an unreasonable argument, inasmuch as nobody is required to like guns and it is arguably understandable that some people might not be big fans of them.
But an aesthetic or philosophical opposition to guns does not grant one the right to deny other peoples' rights; indeed, given what we know—both that allowing guns on campus does not lead to more campus violence, and that people use guns to defend themselves hundreds of times every day—there is little reason to ban firearms from college grounds. Thankfully, there are plenty of activists working to pass liberalized gun carry laws on campuses across the country. But there is still plenty more work to be done.
MORE: 'I'm a College Student and I Support Campus Carry'
MORE: Wichita State professor steps down over new concealed carry law in Kansas
Like The College Fix on Facebook / Follow us on Twitter
IMAGE: Shutterstock