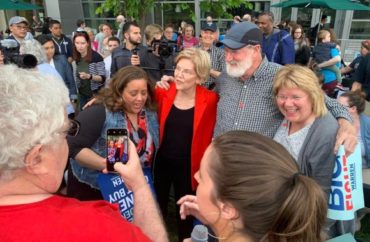 Crowd energetic at George Mason University, while Elizabeth Warren later dodged reporters' questions 
FAIRFAX, Va. — U.S. Senator and 2020 Democratic presidential candidate Elizabeth Warren took to the stage Thursday night at George Mason University and touched on a variety of issues in front of a crowd of roughly 500 supporters.
While the event took place on a college campus, many rally-goers did not appear under the age of 35. (Final exams began last week and concluded Wednesday and commencement is Friday.)
Meanwhile, Warren's message was met by the audience with frequent cheers and claps.
Here is the line that is forming at 4:50PM ahead of the Warren rally at George Mason University: pic.twitter.com/ehrDj1r0LA

— Zachary Petrizzo (@ZTPetrizzo) May 16, 2019
Warren took the stage to the tune of Dolly Parton's "Working 9 to 5" with a large American flag draped behind her.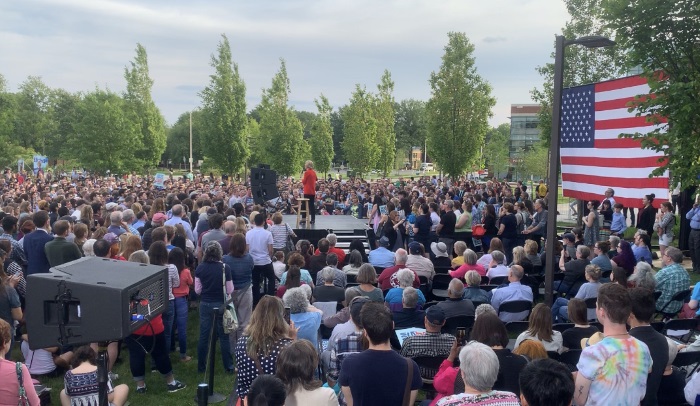 Warren rallied the crowd early by taking aim at defense lobbyists and what she called the "revolving door" in Washington, D.C. The Massachusetts senator told the crowd how pleased she was to be near the Pentagon and "the big five military contractors," likely referring to the several large, private military-supply companies located near the beltway.
"I know there are a lot of really good people in the Department of Defense, really good people who work for our defense contractors, but here's the problem: too many of our defense contractors, they don't just want a seat at the table, they want to own the table," Warren said.
The U.S. Senator also drew cheers as she talked about "student debt cancellation for 95 percent of people who have it."
"Restructure the economy, a little fairness, just level the playing field," Warren said at the public university, drawing more cheers.
Sen. Warren also promised her supporters that she would bring her bold policy proposal of anti-corruption legislation with her to the White House.
"We need the biggest anti-corruption plan since Watergate," the senator said.
Warren then took three questions from the audience by pulling raffle tickets turned in by those who sought to ask questions. Much like yelling "bingo," those whose tickets were pulled were instructed to yell "persist!"
The question topics ranged from U.S. Department of Veterans Affairs reform to health care to gun safety. Warren stressed the need to pump "more money" into the VA.
Warren's digital press secretary Alexis Krieg told The College Fix that there were about 1,100 people in attendance and 60 volunteers at the event Thursday night. But journalists at the campaign stop discussed the figure and agreed among themselves it was closer to about 500.
At the conclusion of the event, Sen. Warren took photos with supporters. A graduation ceremony at GMU on Thursday evening also concluded after her speech, and some grads came by for a photo op. Warren spent about an hour taking photos with supporters.
But she appeared less interested in giving time to reporters at the event. A gaggle of journalists attempted to ask the 69-year-old politician a myriad of questions as she walked to her car. She was surrounded by security and did not stop for reporters' questions.
Asked by a College Fix reporter about Bill de Blasio entering the presidential race and controversy surrounding Brett Kavanaugh, Warren did not respond. She also did not respond to most other reporters' questions called out to her as she walked to her car.
Sen. Warren refused to answer any questions from the press this evening. Here is my question regarding Bill de Blasio: pic.twitter.com/zdag0EL3RE

— Zachary Petrizzo (@ZTPetrizzo) May 17, 2019
Elizabeth Warren's team just backed up her car all the way to the wall of Merten Hall to avoid questions from the press: pic.twitter.com/NyLUOF0GWK

— Zachary Petrizzo (@ZTPetrizzo) May 17, 2019
Prior to Warren's speech, a very small counter-protest took place. A handful of pro-life protesters held signs depicting graphic post-abortive images. They were told to take their protest and signs, including one that read "Lizzie only has 1/1024% of a heart for babies," to the other side of the street.
MORE: How Bad Is Elizabeth Warren?
IMAGES: By Zachary Petrizzo
Like The College Fix on Facebook / Follow us on Twitter