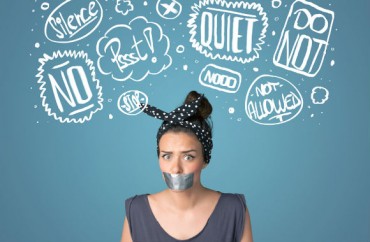 Is there such a thing as too much free speech? Apparently, there is at public universities in the state of Washington.
A sweeping bill proposed by a Republican state lawmaker that aimed to protect free speech rights for professors and students in the evergreen state met with opposition during a recent public hearing and has been gutted in order to proceed through the legislature with bipartisan support.
A recently introduce streamlined version of the bill retains wording that seeks to protect and enhance free speech on campuses, and promises to punish with fines schools that violate such rights.
But gone are provisions from the original bill that sought to prohibit punishments for students who utter microaggressions, or protections for whistleblowers and professors who refuse to use trigger warnings.
Among those who testified against the bill's microaggression provision was Josie Ellison, a student government representative from Western Washington University, who told lawmakers unintentional slights are taxing on students and they need protection from them.
"This is something that damages … student autonomy over their own ability to feel safe in the classroom," Ellison said, adding microaggressions are "racially charged, they are sexist … and when you are experiencing these things from faculty and students in the classroom all day, every day, it gets very tiring."
Another female student who testified against the microaggressions section told lawmakers "educational spaces should not be places where antagonism against one's person is tolerated. It is a slippery slope to codify into law, particularly for minority and marginalized students."
And Kimberly Anderson, director of Washington State University's Office for Equal Opportunity, told lawmakers students do not get in trouble for just saying one microaggression.
She said she advises students that people are "allowed to be racist and offensive, it's when they target that conduct that creates a hostile environment – one singular microaggression is not a violation of policy."
Sara Singleton, a political science professor at Western Washington University, also testified on behalf of the state's faculty members to say they feel the bill, as proposed, is well meaning but "legislative overreach."
"We don't think it's a good use of your time or your effort," she said.
RELATED: Bill proposes fines for universities that infringe on students' free speech rights
Two days after the hearing, Democrat Rep. Drew Hansen, chair of the higher education committee, told talk radio show host Jason Rantz that he was concerned allowing the microaggression provision to move forward would permit students to be sexist and racist.
"One of the great parts of opposition at the hearing is the bill actually makes it OK, under state law, for a professor to racially harass students as long as they do it kind of quickly," Hansen had said.
Hansen also noted "it's hard to see a case for the bill when the people the bill theoretically is trying to protect seem to think it's a bad idea."
Rep. Matt Manweller, who also works as a political science professor at Central Washington University and authored the original bill, told Rantz that interpretation is ludicrous.
"That was pretty offensive to listen to," Manweller said. "… To suggest that we had a bill that said you could sexually harass students as long as you did it quickly – I think that was an intentional and disingenuous misrepresentation of what the bill says."
In the end, Manweller told Rantz he was willing to offer an olive branch of sorts by narrowing the bill to just the prohibition on speech codes and speech zones, "which in many cases … have already been found unconstitutional."
Yet that remains in contention as well.
During the Jan. 27 hearing, Anderson, the director of Washington State University's Office for Equal Opportunity, told lawmakers some speech restrictions on a public campus are necessary, and legal precedent backs that up.
When asked point-blank "is it your belief that a policy of a free speech zone is consistent with the First Amendment of the Constitution," Anderson replied: "Within certain case law as it's interpreted, of course we are looking at the ability to preserve the educational environment."
"We are reevaluating our policy on speech zones with a fairly liberal eye to that, but we do think there are some limitations that are necessary … so that we can preserve the educational environment. … We have live wild animals on campus, we have sporting events, some areas where we need to have broader discretion," she said.
Manweller, in his interview with Rantz, said his "jaw fell" when he heard Anderson suggest speech zones are needed protect "live wild animals."
"The testimony ranged from very supportive to very bizarre," he said.
In a statement to The College Fix, Robert Strenge, a spokesman for WSU, said that "Kim confessed that her reference to wild animals in her testimony was a bad example of the point she was trying to make."
He said most animals on campus are domestic except for a relatively remote facility that houses grizzly bears.
"Kim says she was simply trying to make the point that WSU regulates where demonstrations can be held, rather than where free speech is allowed, and that the reason for the regulations is that there are areas of the campus that are not well-suited to mass demonstrations," he said. "So we don't allow demonstrations in areas where they would place students at risk, disrupt other students [or] faculty attending class, or where they might otherwise inhibit operation [of] the university. There are well-established legal precedents for imposing some limitations on the right to free assembly which allow the university to impose some restrictions for all three of those reasons."
One of several students who spoke in defense of the bill during the January hearing was Emily Strode, a student representing the Associated Students of Washington State University, who said her peers are tired of having to get permission to exercise their free speech rights on campus.
"Any outdoor area on a college campus should be considered a free speech zone," Strode said. "Students across the state should have the opportunity to voice their opinions freely and without a waiting period."
Like The College Fix on Facebook / Follow us on Twitter
IMAGE: Shutterstock