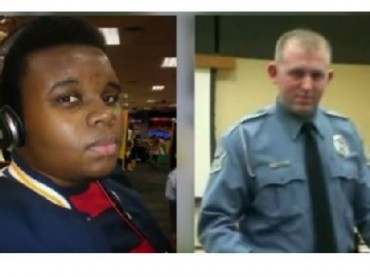 Communist handout encourages St. Louis students to help shut campus, city down in wake of grand jury verdict
ST. LOUIS, Mo. – Students at Saint Louis University were handed a communist leaflet as they walked between classes Wednesday afternoon that declared "if the murdering pig walks, AMERIKKKA must be brought to a halt."
The leaflet was distributed by two individuals associated with the Revolutionary Communist Party on Grand Boulevard, a busy street that intersects with the university's quad and splits the two ends of the urban campus.
"If the decision is announced at night, the next day should be a day of NO BUSINESS AS USUAL at schools," the leaflet stated. "Buildings on campus should be taken over, classes should become teach-ins on police murder of Black people. All this and more should be done."
Its author is listed as Carl Dix, national spokesperson for the Revolutionary Communist Party, USA. It called for individuals to "pour into the streets" if Officer Darren Wilson is not indicted.
"Major streets and highways should be blocked and traffic should be unable to proceed on bridges and tunnels," the leaflet reads. "Professional athletes should join the response by refusing to play. Musicians should cancel appearances."
An individual involved with the leaflet told The College Fix in an email that they "passed the leaflet out at SLU because college students have an opportunity to dig deeply into the reality that we live in a society that's rooted in exploitation and oppression."
"There's every indication that a decision from the grand jury in Ferguson will be announced in the next few days allowing the cop who murdered Mike Brown to walk free. This would be a total outrage and must be met with resistance," said the individual, who identified himself as F. Johnson.
Grand Blvd. is technically not on-campus and is considered public property. With that, a Saint Louis University administrator told The College Fix in an email that the university had to respect that the sidewalk is public property.
"We do not have any … authority to limit what happens on public property," said Vice President for Student Development Dr. Kent Porterfield.
Asked if the university condemned the communist literature, Porterfield replied "the university did not know about or endorse the leaflet."
"SLU supports a safe and peaceful resolution to the conflict and complex issues our community is dealing with," he said.
The leaflet's distribution prompted mixed reaction.
"Most people I know were taking it and literally throwing it in the trash. Others stopped and were reading it," freshman Tim Lally told The Fix.
Lally and his roommate stopped to discuss the leaflet with those handing it out, asking if the term "murdering pig" was appropriate given the grand jury process is still not completed.
"They were getting really hostile at the end of it," said Lally, saying at one point he got cussed out by one of the leaflet distributors.
"I didn't appreciate them passing out that kind of propaganda on our campus," he added.
College Fix reporter Nathan Rubbelke is a student at Saint Louis University.
Like The College Fix on Facebook / Follow us on Twitter